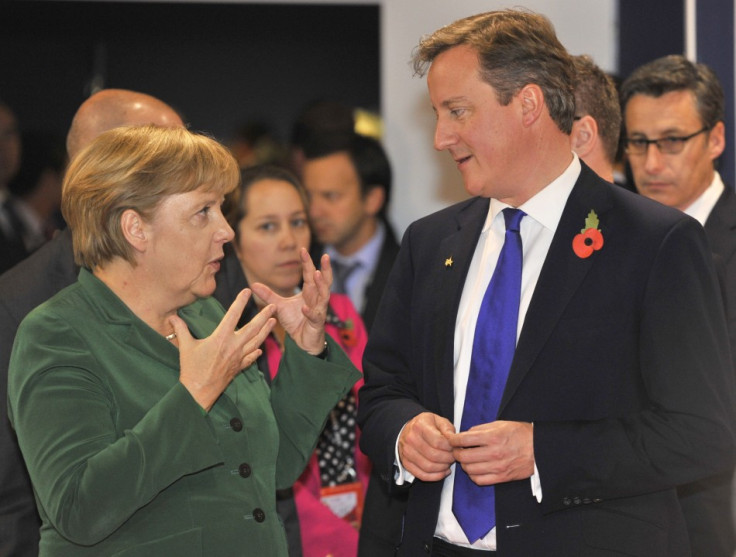 British Prime Minister David Cameron and German Chancellor Angela Merkel will meet in Berlin Friday to discuss the eurozone crisis.
The meeting assumes importance amid the growing friction between the two countries over a number of issues ranging from the Financial Transaction Tax, also known as Tobin Tax, to the future of the European Union.
The discussions are likely to be dominated by the issue of the Tobin Tax. Germany is pushing for the UK to accept an FTT in an effort to regulate the markets. The proposal also enjoys the backing of French President Nicolas Sarkozy.
But Britain rejects an FTT without participation from other major economies like the U.S. and China. It is widely believed in the UK that the City of London would be seriously damaged if the tax only applied across Europe.
Meanwhile, the reported remarks by Volker Kauder, a senior member of Merkel's party, about the need for London "to make concessions on the issue of the tax and must show more collective responsibility in Europe" have brought angry reactions from British ministers.
Chancellor George Osborne said a Europe-only tax would be an "economic suicide," while Business Secretary Vince Cable said the UK would not "fall for" such an idea, which he said had nothing to do with the urgent problems facing Europe on productivity and employment, reports the BBC.
Earlier this week, Cameron called for an EU with the "flexibility of a network, not the rigidity of a bloc." He suggested that the system cannot survive on "grand plans and utopian visions."
Cameron had already invited flak for being "eurosceptic" and not doing enough to address the debt crisis. On the other hand, Merkel is vouching for a "more Europe" concept as the solution for the current situation. The two leaders will meet in Berlin following a discussion with the EU leaders in Brussels.