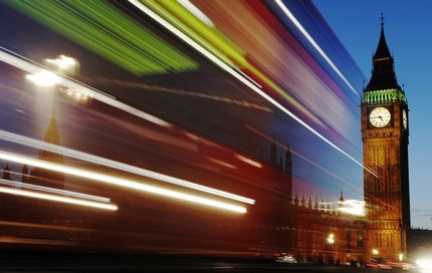 We know the cost of living is rocketing, but it is not quite as bad as David Cameron and Boris Johnson appear to think even though they might be accused of being responsible for it.
Both have been caught out by the oldest trick in the book, whether they know the price of ordinary items of shopping. And both wildly over compensated.
During an interview on BBC's Newsnight, Boris told Jeremy Paxman he thought a pint of milk was 80p, when it is closer to 40p, and declared: "Well there you go, I don't know how much a pint of milk costs. So what?'
Then Cameron told an LBC radio presenter he believed a loaf of value bread was "north of" £1, when it is 47p.
But in the best tradition of when you are in a hole keep on digging, the man Labour loves to portray as out of touch suggested he could be forgiven for not knowing because he has a bread maker. Obviously.
He added: "A little plug made for the flour made in my constituency, the Cotswold Crunch, you get some of that beautifully milled in the Cotswolds. You pop that in your bread maker. You can set the timer overnight so when you wake up there's this wonderful smell wafting through your kitchen."
I didn't know Agas had timers, or am I assuming too much.
Frank advice
What do Mental Patient and Psycho Ward patient have in common with David Cameron and Eric Pickles - and it's probably not what you think.
The answer is, they have all fallen foul of mental health lobbyists.
The two Halloween costumes caused a stir when they appeared for sale at supermarkets and have since been withdrawn with profuse apologies.
Then just as the Tory conference kicked off, it emerged communities secretary Pickles, who could make a pretty good Halloween costume in his own right, told a survivor of alleged child abuse to "adjust your medication" when she accused him of ignoring her at a meeting last month.
Unfortunately for him, Teresa Cooper, who claims she was drugged as a teenager at the Kendall House care home, Kent in the 70s and 80s, recorded the conversation.
When she visited Pickles as a constituent and challenged him over lack of action on the case, he snapped back: "just, adjust your medication".
Mr Pickles said: "It was never my intention to insult Teresa Cooper. I was giving her a frank piece of advice in private."
Sounds like it is Mr Pickles who needs some frank advice.
Cameron's nuts
Meanwhile the Prime Minister blundered into similar territory when he branded Ed Miliband's energy freeze policy "nuts", in an interview in which he also said some green activists were: "slightly away with the fairies".
When pressed to repeat "nuts" on the opening day of the Tory conference, he reluctantly agreed but said: "I don't want to get into a huge argument with the mental health lobby."
He may well have a point. The current champion for the Time to Change mental health campaign group, is former Blair spin doctor Alastair Campbell who is not known for letting such things lie.
Stolen sweets
Why did Work and Pensions Secretary Iain Duncan Smith look so glum during Chancellor George Osborne's speech at the Tory conference?
When Osborne praised IDS' welfare reforms the cameras cut to the man himself who failed to raise a smile but looked like someone had just stolen his bag of sweets.
Perhaps it is because Osborne had done just that, by making the latest announcement on welfare - the planned Workfare scheme - himself rather than leaving it to the man who is responsible for it.
Or perhaps it was because a new book had claimed Osborne described IDS as "not clever enough".
Too good to be true
Meanwhile there are some spoofs that are so believable it is impossible to tell they are not the real thing. And IDS seems to have more than his fair share of them.
As the huge anti-cuts march descended on the Tory conference on its opening day one tweet, allegedly from IDS, popped up declaring: "we've stopped them getting inside by writing 'Job Centre' on all the doors".