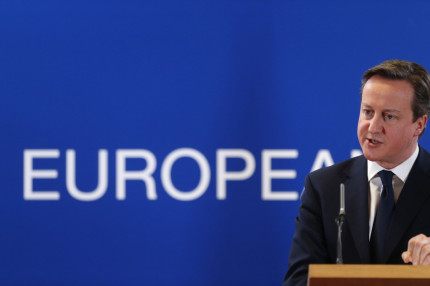 Another day and another statement from the prime minister about what he will not resign over.
Last week he insisted he will not resign if Scotland votes "yes" to independence in September.
Now he has declared he will not step down if Britain votes "yes" to separation from the rest of Europe in his promised "in-out" referendum in 2017.
The truth is, and the prime minister is well aware of this, the decision to stay or go will not be his to make. In both cases, if he hesitates, the decision will be made for him.
It is highly unlikely his party would allow him to hang on if he ended up on the losing side of an EU referendum he himself called and during which he led the "In" campaign.
In fact the betting is that he would resign anyway, irrespective of what his current position is.
It is equally inconceivable that his party would allow him to remain as leader if he had presided over the destruction of the Union, irrespective of the fact there was a cross-party pro-union campaign.
He would have been the Conservative and Unionist prime minister on whose watch the Union was severed.
And, of course, the prime minister knows all this, but he deserves some sympathy and understanding. There is absolutely no way in which he can start laying down the conditions which would lead to his voluntary resignation.
It would only serve as a huge distraction, add extra spice to the two referendums, spark persistent speculation over the exact circumstances of his exit and lead to him being asked whether he would resign over just about anything else.
So a simple statement that he will not resign shuts down the debate, in so far as it is within his power to shut it down.