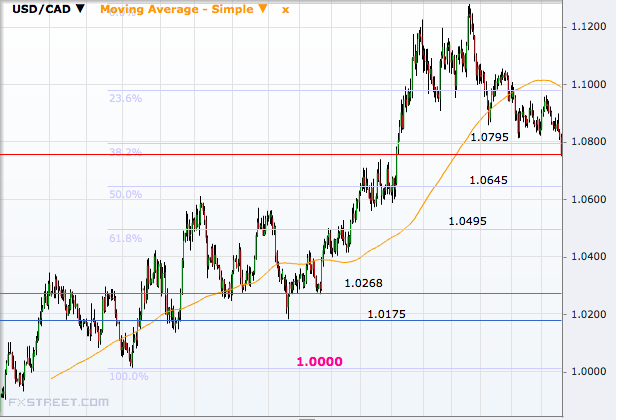 The Canadian dollar rallied to a near seven-month high against the US dollar on Friday as Canada's consumer price and retail sales data surprised on the higher side.
USD/CAD dropped to as low as 1.0750, its lowest since 7 January, from Thursday's close of 1.0817. The pair has been on a downtrend after topping at 1.1280 on 20 March.
Despite Friday's slide, the pair is still holding an uptrend on a broader scale that began in January last year.
CAD/JPY jumped to a six-month high of 95.015 from 94.23 following the releases.
Data on Friday showed that Canada's consumer price index rose 2.3% year-over-year in May, faster than the April growth of 2.0% and beating the market consensus of 2.1%.
Retail sales grew 1.1% in April, much faster than previous month's 0.1% and compared with the market forecast of 0.6%.
USD/CAD now has support at 1.0645, the 50% retracement of the rally from the parity level to the 20 March peak, ahead of 1.0495, the 61.8% level.
There are two more levels to be broken through before the parity level is hit again and they are 1.0268 and 1.0175. Only a break below this area will confirm the broad uptrend and resumption of a downtrend.
On the higher side, the pair will first target 1.1280, the March top that also coincides with the 50% retracement of the March 2009 to July 2011 downtrend. The next level will be 1.1720, the 61.8% level.