Dollar gains on rising US yields, British inflation lifts pound
The dollar strengthened on Wednesday, lifted by rising Treasury yields, though the pound gained against the greenback after British inflation stayed above 10% in March.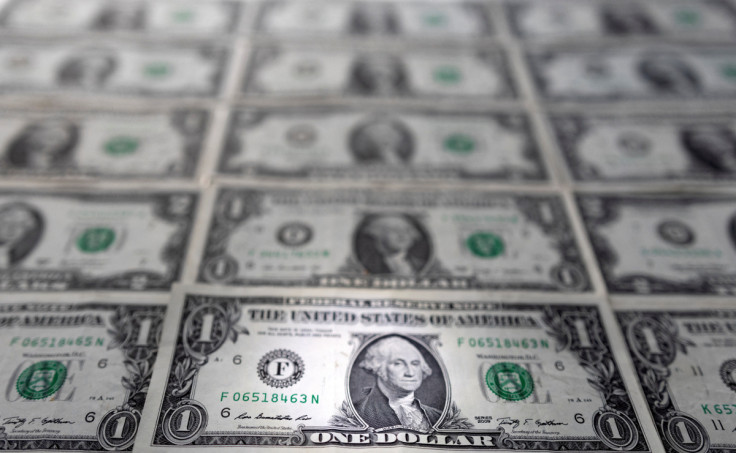 The dollar strengthened on Wednesday, lifted by rising Treasury yields, though the pound gained against the greenback after British inflation stayed above 10% in March and put more pressure on the Bank of England to keep raising rates.
The dollar index, which tracks the currency against a basket of its peers, was up 0.206% as markets turn more skeptical that the Federal Reserve will cut rates later this year.
The yield on two-year Treasury notes, which are sensitive to expectations for the U.S. central bank's monetary policy, rose 7 basis points to 4.269% after hitting a one-month high of 4.286%.
But the dollar's gain was a "temporary reprieve," said Bipan Rai, North America head of FX strategy at CIBC Capital Markets in Toronto.
"We still think that over the medium- to long-term that the dollar is going to continue to come under considerable amounts of pressure. And that's tied to our view that the Fed is probably going to hike one more time and then that's it."
Futures pricing show an 85.7% chance the Fed will hike rates 25 basis points when policymakers conclude a two-day meeting on May 3, according to CME's FedWatch Tool. But the likelihood of a rate cut by December has narrowed considerably this week.
The dollar has been on the defensive for some time with the debt ceiling in Congress unresolved and the migration of deposits in the U.S. banking system still a concern, Rai said.
Sterling was last trading at $1.244, up 0.13% on the day, while the dollar rose 0.46% against the rate-sensitive yen at 134.71, after briefly poking above 135 for the first time in a month.
The immediate outlook for the dollar is less than bullish given that central banks abroad have more hiking to do over the balance of the year than the Fed, said Joe Manimbo, senior market analyst at Convera in Washington.
"If core inflation takes longer to come back to the Fed's 2% goal, then maybe the Fed has to raise rates more than once over the course of the year," he said, adding that could halt or slow the dollar's slide.
"We're just in a very choppy state right now for FX until we get some greater clarity on the policy outlook."
Expectations for higher official rates in a market relative to those elsewhere typically drag money market and government bond yields higher, attracting cash into a country while boosting its currency at least in the short term.
Wednesday data showed British consumer price inflation eased less than expected in March to 10.1% from February's 10.4%, meaning Britain has western Europe's highest rate of consumer inflation.
"It looks like UK's 10%+ CPI reading was the culprit. This has revived worries that interest rates will remain high for longer in the UK - and Europe," said Fawad Razaqzada, market analyst at City Index.
Deutsche Bank on Wednesday revised up expectations for British rates to include two more 25 basis point rate hikes from the Bank of England. Morgan Stanley now predict one, with a risk of a second.
Currency bid prices at 2:42PM (1842 GMT)
Description RIC Last U.S. Close Pct Change YTD Pct High Bid Low Bid
Previous Change
Session
Dollar index 101.9200 101.7200 +0.21% -1.517% +102.2300 +101.6500
Euro/Dollar $1.0958 $1.0974 -0.15% +2.26% +$1.0984 +$1.0918
Dollar/Yen 134.7050 134.1000 +0.44% +2.73% +135.1300 +133.9600
Euro/Yen 147.61 147.17 +0.30% +5.21% +147.8600 +147.0500
Dollar/Swiss 0.8974 0.8962 +0.16% -2.93% +0.9002 +0.8959
Sterling/Dollar $1.2440 $1.2425 +0.14% +2.88% +$1.2474 +$1.2393
Dollar/Canadian 1.3456 1.3388 +0.51% -0.69% +1.3458 +1.3386
Aussie/Dollar $0.6716 $0.6729 -0.17% -1.46% +$0.6741 +$0.6690
Euro/Swiss 0.9834 0.9831 +0.03% -0.62% +0.9848 +0.9826
Euro/Sterling 0.8806 0.8831 -0.28% -0.43% +0.8838 +0.8792
NZ Dollar/Dollar $0.6204 $0.6206 -0.06% -2.32% +$0.6225 +$0.6174
Dollar/Norway 10.5690 10.4730 +1.02% +7.81% +10.5840 +10.4820
Euro/Norway 11.5779 11.4795 +0.86% +10.33% +11.5960 +11.4735
Dollar/Sweden 10.3422 10.3135 +0.13% -0.63% +10.3750 +10.3008
Euro/Sweden 11.3277 11.3132 +0.13% +1.60% +11.3362 +11.3029
Copyright 2023 Thomson Reuters. All rights reserved.