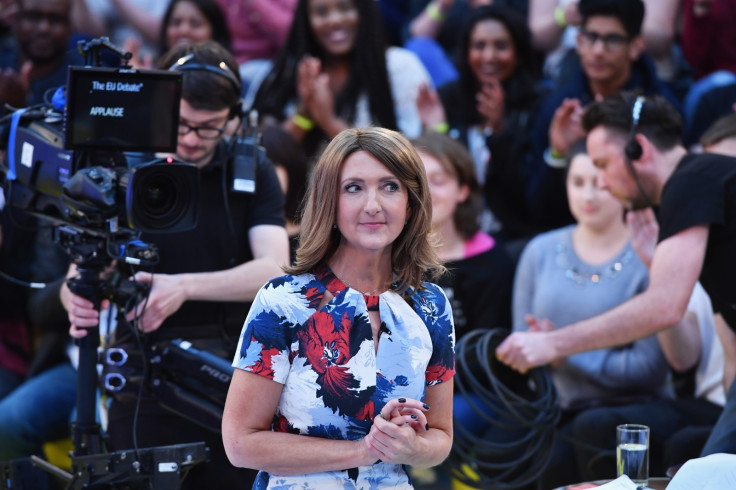 BBC presenter Victoria Derbyshire was diagnosed with breast cancer in July 2015 after her curiosity over an inverted nipple led her to believe that she may have the disease. In the months that followed, the 48-year-old star underwent a mastectomy and several rounds of chemotherapy.
In her frank new memoir, Dear Cancer, Love Victoria, the journalist opens up about her battle to beat cancer and get her life back.
In her book, serialised in The Mirror, she compares the agony of chemotherapy to being in child labour and details how the treatment started to take its toll on her mind and body.
"Four days after my fourth chemo. I feel like a very, very old woman," she writes on 10 January 2016.
"I can barely move, am totally wiped out and find it difficult to get out of bed even to go to the loo because of agonising pains in my stomach and lower back."
She went on to reveal that she had "zero energy and aches in my legs and hips which remind me of going into labour. Maybe this is the cumulative effect of chemo."
Derbyshire hoped painkillers would alleviate the aching but she was wrong. "Later I shuffle downstairs for a bowl of cornflakes, and then walk painfully back up to bed. It's the worst day I've had since I got cancer, and I hate it."
The mother of two also reveals she was left guilt-ridden after learning of Alan Rickman's death from cancer days after her fourth round of chemotherapy. The screen legend, known for roles in films including the Harry Potter franchise and Die Hard, passed away on 14 January 2016 at the age of 69.
"In an unhysterical way I find it difficult to cope with hearing about another high-profile death from cancer," she admits.
'"And then I feel guilt – I should be grateful because I'm still here and there are families everywhere mourning loved ones who've died from this disease."
The journalist says that it wasn't until she completed her radiotherapy on 25 May that she felt that she had gotten her life back and finally had a "fresh start."
Recalling the moment, she writes:"From diagnosis to today is 301 days. In a lifetime, assuming you live a lifetime, it's just a blip. But what a blip."