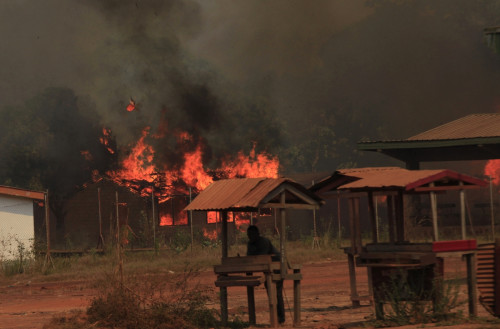 UN officials warned the Security Council that Central African Republic is on the verge of collapse, with half the population rendered homeless since the political struggle turned into a bloody ethnic strife paralyzed the whole country.
Jeffrey Feltman, UN political affairs chief told the council that about 2.2 million people, which amounts to about half the CAR population, need assistance.
"Killings in Bangui and the rest of the country continue every day, and the population remains divided along religious affiliation,'' Feltman said.
Sectarian violence in CAR has spiralled out of control, as targeted killings, looting, and indiscriminate destruction of property continue unrestrained despite the presence of French and African Union peacekeeping troops.
The bloodshed in CAR has claimed hundreds of lives, and has displaced nearly a million people since the escalation of armed conflict between Christian and Muslim militias last year.
The number of internally displaced people in the country doubled to about 935,000 in the past month, who are hiding in bushes and seeking refuge with families, even as churches and schools are being converted to makeshift shelters.
In the capital city, more than half of the city's population have fled their homes. About 510,000 people are displaced from Bangui, and over half of whom are children.
Last week, the number of people taking refuge in the makeshift camp at the international airport has doubled to about 100,000.
Children beheaded
The UN warned the violence had sunk "to a vicious new low" as children were mutilated and beheaded in the bloody battle, according to BBC.
The reports suggest that at least two children were beheaded in revenge attacks, even as thousands are being recruited as soldiers.
Deaths of 16 children have been verified, and the number of child soldiers in CAR has doubled to 6,000 since violence broke out in Bangui early December.
"We are witnessing unprecedented levels of violence against children. More and more children are being recruited into armed groups, and they are also being directly targeted in atrocious revenge attacks," Souleymane Diabate, UNICEF representative for CAR, said.
Refugee camps attacked
The UN refugee agency said that the civilians at refugee camps have little protection against the armed militia who attack and loot them at will, hindering the delivery of aid relief.
"Insecurity and chaos around the site...prevents us from doing any distribution," Babar Baloch, UNHCR spokesman told a news conference in Geneva. "It's a horrible situation. We have heard a lot about revenge attacks happening inside health centres, where armed elements have gone and attacked patients."
After armed attacks at Medecins Sans Frontieres, Medical charity, which killed three children and injured about 40 people, the hospital said it was cutting services to a minimum at its airport clinic.
"We are not going to continue to put the lives of our personnel at risk," Lindis Hurum, site coordinator told Reuters.
Only most severe cases are being treated at the charity.
"A team composed of five of our 16 doctors will be left in place for cases of extreme emergency", Hurum said.
"Our staff report that people are hiding in the bush, fearing fresh attacks," UN agency said in a statement.
The French and African Union troops are struggling to contain the violence in the country and have been unable to provide the required protection for aid deliveries to be flown out from airport to surrounding areas.
There are about 1,600 French and about 3,500 African troops stationed on ground as yet.
The UN has advised increasing the number of troops and has called for more efficient peacekeeping units.
Origins of CAR Conflict
The Central African Republic conflict goes back to December 2012, over a disagreement between the government and Seleka, a coalition of Muslim rebel militia. Seleka accused former President Francois Bozize, backed by Christian militia, of reneging on peace agreements signed in 2011. Both sides had brokered a deal to form a unity government led by the President.
By the end of 2012, the rebel coalition captured many major towns in the central and eastern regions of the country, heading towards the capital city Bangui in a bid to oust the President, who fled the country in March 2013.
Michel Djotodia, backed by Seleka, was recognised as the transitional head of government.
Under his interim presidency, Seleka resorted to murdering civilians, including women and children, according to Human Rights Watch.
Djotodia officially integrated the Seleka rebels into national army, who kept their arms and formed their own vigilante group, called "ex-Seleka".
However, Djotodia struggled to rein the militia, who are now operating as loose gangs of gunmen without any established command and control.
As they continue to commit abuses, the anti-balaka, a predominantly Christian armed group launched sustained attacks on Muslim civilians to avenge ex-Seleka offenses.
The country has plunged into anarchy following the retaliatory clashes between Muslim and Christian militia.