Cardiff City owner Vincent Tan claims the club are planning to sign around 12 players like Swansea City forward Michu this summer, ahead of their first season in the Premier League in over 50 years.
The Bluebirds sealed promoted to the English top flight on Tuesday and the club's Malaysian chief revealed the club are looking to use their transfer budget as wisely and economically as their Welsh rivals Swansea, who earned Premier League status two years ago.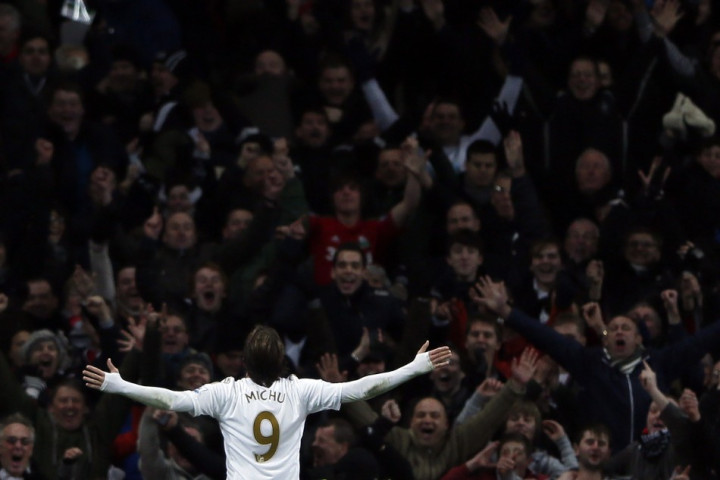 The Swans had signed Michu from Spanish side Rayo Vallecano last summer for £2m and the 27-year-old has 21 goals from 38 appearances in all competitions, in what has been a dream debut season in England.
"We'd like to follow the Swansea model by signing players like Michu for £2m. We could go and buy 12 of them. If you get a dozen Michus, you wouldn't do too badly," Tan said.
Sir Alex Ferguson had recently praised the impact of Michu in the Premier League and hailed the Spaniard as one of the best bargain signings in recent times.
Meanwhile, Cardiff, who are set to shell out £25m this summer, has been linked with a move for former Chelsea forward Salomon Kalou.
Laudrup: Swansea v Cardiff City will be Like Rome Derby
Swansea boss Michael Laudrup has stated he is looking forward to the derby game against Cardiff next season, drawing comparisons between the all-Welsh affair and the Rome derby.
The two sides will meet each other in the Premier League for the first time next season. And Laudrup, who has featured on both sides of the El Clasico several times during his career, claims the fixture reminds him of the Roma v Lazio matches.
"I know the Swansea and Cardiff derby is something everyone is looking forward to. To have the first South Wales derby in the Premier League will be a nice occasion. It should be seen like that as well. A small country to suddenly have two teams among the 20 clubs in the Premier League is nice," the Dane pointed out.
"I also played in the Real Madrid and Barcelona games, but that is a different type. There are 400 miles between the clubs. It's like Liverpool and Manchester United here, where those games are more about the history and tradition. If you look at the same area like Cardiff and Swansea then I think it is more like Lazio and Roma," Laudrup added.