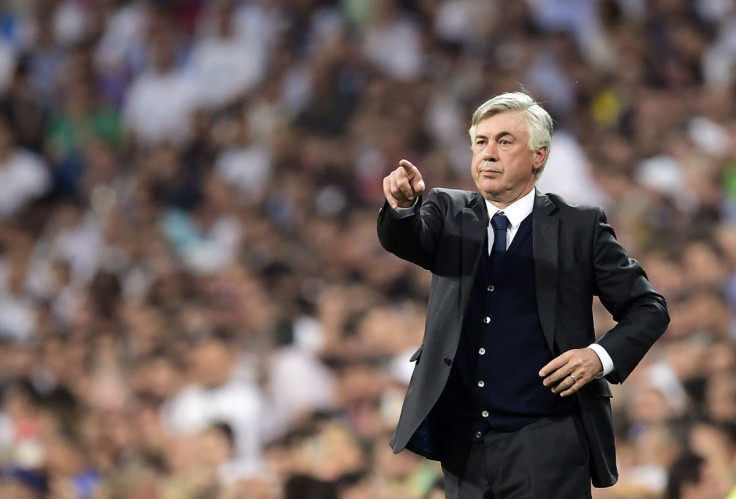 Carlo Ancelotti believes Real Madrid's injury list is the cause of his former side's underwhelming campaign. The Italian, nevertheless, has backed Zinedine Zidane to turn the situation around as the La Liga giants fight for their 11th Champions League title.
Los Blancos have seen 22 muscle injuries hit first-team players this season, with key figures like Gareth Bale, Karim Benzema, Marcelo and Sergio Ramos all missing a significant number of games. Some have fingered the club's head doctor, Jesus Olmo, as the man to blame for the situation, with reports suggesting a major break down in relationships between the players and the medic.
Cristiano Ronaldo hinted at these issues following the humiliating home defeat to Atletico Madrid, seemingly criticising the club's second-tier players who'd been forced to step up in the wake of widescale injuries, saying: "I don't want to disrespect anyone, but when the best players aren't available it's harder to win. I like to play with Karim, with Bale, with Marcelo. If we were all at my level, maybe we would be leaders."
Ancelotti has agreed with Ronaldo's assessment, saying he too had to deal with similar problems in his tenure at the Santiago Bernabeu.
"Too many injuries have affected the Madrid players. It also happened in my last season [at the club]," the Italian said in his column at Sports Sina. "The data shows something is terribly wrong. From the start of the season there have been 22 muscle injuries. Let everyone draw their own conclusions, but for a club like Madrid this situation isn't normal."
Ancelotti, who will take charge Bayern Munich next season, led Real Madrid to both the Champions League and the Copa del Rey titles in the 2013-2014 campaign, but was sacked the following season after failing to win any subsequent silverware.
The Italian has urged Real to show more patience with Zidane, after the France legend's position at the club came under scrutiny following the derby despite only taking over the job in January after Rafa Benitez's dismissal.
"Real Madrid lost against Atletico, sparking again doubts at the Santiago Bernabeu among those who start to look for the culprit, something that isn't new," Ancelotti lamented. "A few weeks ago everything was easy and now there are problems again. The analysis is extreme," the former boss added.
"Of course Madrid needs self-criticism, to analyse errors and resolve them. I'm sure that's what Zidane and the players are doing. Together they can overcome it. Those who think Barcelona and Atletico aren't on the same level are wrong. [Diego] Simeone has created one of the best teams in Europe."