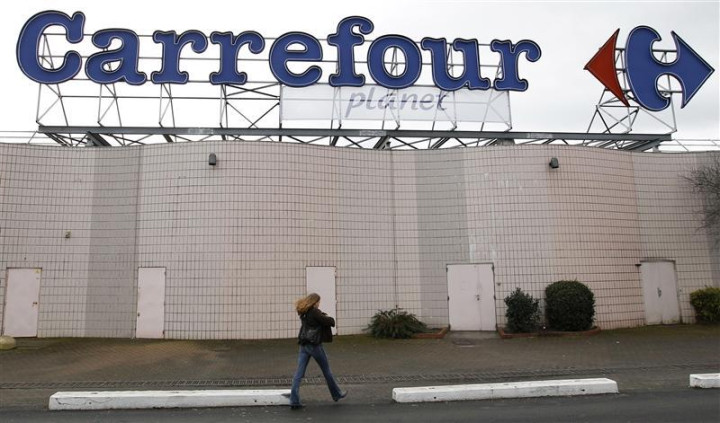 French retailer Carrefour has reported a decline in first-quarter sales as negative currency effects more than offset the sales growth in emerging economies.
Revenue declined by 1.3 per cent on a pro-forma basis that excludes the impact of closed businesses to €20.83bn ($27.08bn). The sales were hurt by a 2.6 per cent negative currency impact.
Excluding the impact of the currency, Carrefour's first-quarter sales rose 1.3 percent year-on-year, as strong sales in emerging markets managed to offset sluggish growth in the key European market.
In Europe, excluding France, Carrefour reported a 3.5 per cent decline in revenue to €5.46bn. Consumers across the continent are spending less on shopping in line with rising unemployment, subdued wage growth and austerity measures in the region.
In the home country, Carrefour's sales declined from 0.7 per cent to €9.29bn, with sales in hypermarkets down 1.8 percent and those in supermarkets down 0.6 percent. However, sales at convenience and other formats increased by 4.6 percent.
The weak figures indicate that the company is struggling to maintain recent improvements in trends following new strategic measure from new company Chief Executive Georges Plassat, who was appointed in spring last year.
The world's largest retailer after Wal-Mart had divested assets in five countries in the past year, and is investing in its domestic business. Plassat's strategic goals for 2013 include improving its price perception, refurbishing outlets and broadening its multichannel offering.
In Latin America, retail sales were up 14 per cent at constant currencies, but a significant depreciation of Brazilian and Argentine currencies ultimately resulted in a pro-forma decline of 0.2 per cent in sales €3.97bn.
Asia posted modest growth with sales rising 0.3 per cent to €2.12bn.
On Wednesday, Carrefour's British rival Tesco, the world's third-largest retailer, which is also looking for a recovery in its home market posted a 1.3 per cent increase in fourth-quarter sales to £72.363bn. However, the company posted a 14.5 per cent fall in profit to £3.549bn, and announced plans to exit its loss-making business in the US.