She got frisky on camera with a lesbian sex scene in Carol, and in 2006's psychological thriller Notes On A Scandal, but Cate Blanchett's first experience of an on-screen romp was as an eight-year-old spectator. The 47-year-old Hollywood actress has revealed that she watched a sex scene when she was in third grade after her parents took her to see the risqué 1976 film Silver Streak.
Recalling the X-rated moment, the Blue Jasmine star told W magazine: "It had Gene Wilder in it, it was Silver Streak. There was a sequence in it but he's on a runaway train, so you think it's going to be funny and we can take the kids to that, but he was with this woman on a runaway train, running from the law, and he'd hurt himself.
She added: "She started to kiss him. And he said, 'Well actually it hurts here and here' and I thought, 'Where is this going?' And she started to unbutton his shirt."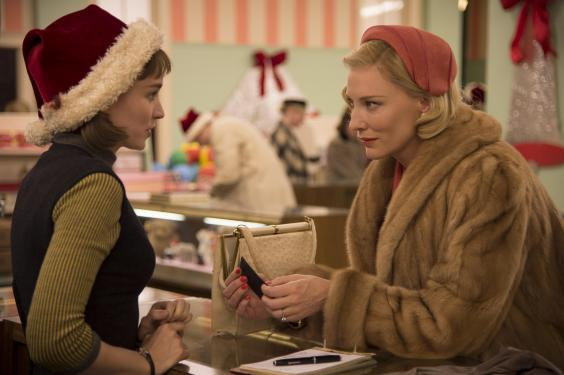 According to the Australian star, the scene was enough to change her ideals of sex. "I could feel my mother's buttocks clenching beside me," she explained. "And I thought, 'Ooo I want some of that.'"
Back in December 2015, Blanchett expressed her frustration over rumours about her sexuality after an interview in which she said she had enjoyed relationships with women, "many times" triggered speculation that she was bisexual. "It really is of no relevance what my sexual persuasion is, " she said adding that the furore was "really silly".
Meanwhile, the star is up for best actress for her performance in Todd Haynes' 1950s-set lesbian romance Carol, where she plays a New York socialite who embarks on a romance with a department store work (Rooney Mara) amid getting a divorce. The pair are faced with societal prejudices as they struggle with their blossoming love for one another.