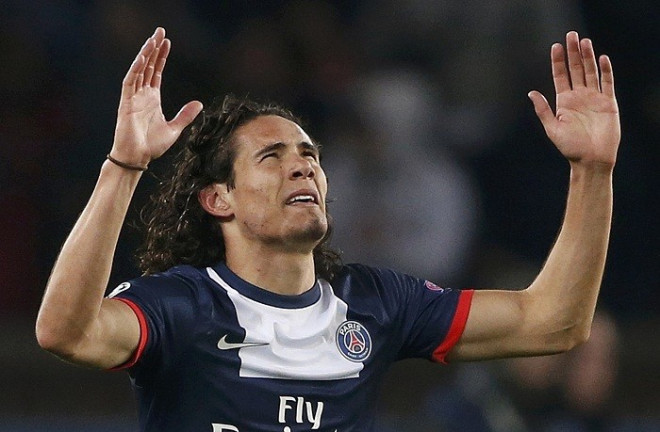 Edinson Cavani has revealed that Chelsea approached him last summer and even though he instead decided to sign for Paris Saint Germain, he doesn't rule out the possibility of making another move at the end of the season.
Jose Mourinho has openly expressed his desire to sign a top striker in the summer and the PSG star is reportedly on a short-list of targets that also includes Atletico Madrid's Diego Costa and Monaco's Radamel Falcao.
Recent reports have suggested that the Uruguayan striker feel overshadowed by Zlatan Ibrahimovic at the Ligue 1 side, with manager Laurent Blanc forcing him to play in the flank rather than his preferred position up front.
And even though he has scored 21 goals this season Cavani has confirmed that he is not happy at all with his current role, hinting at a summer move.
Asked in an interview with L'equipe if he will I remain at Paris next term, Cavani said: "We will see at the end of the season."
"I am fine in Paris, but obviously there are things we have to talk about with the club, things we need to do in a different way. Playing besides players like Zlatan, Thiago Silva, Thiago Motta or Lavezzi is great for any player. But for a forward used to scoring and who now has to do defensive tasks, it is not easy," Cavani added.
"Playing in 4-4-2 was my vision when I joined Paris. It is one of the arguments that motivated me to sign for that club. Let's finish Le Championnat and we will see what will happen."
PSG signed Cavani last summer from Napoli for £56m but the player confirmed that Chelsea also tried to secure his services, although the Blues didn't make a formal bid.
"Chelsea was interested in me last summer but the only thing that matters in the transfer window is spending money, just like Palermo did in 2009, Napoli in 2011 and PSG did last summer. PSG showed real trust and real determination to include me in their project. When you pay such transfer fee, that is a proof you really want the player."
The Blues may will renew their attempts to sign Cavani in the summer while Manchester United are also reportedly interesting in acquiring his services should he decide to leave PSG.