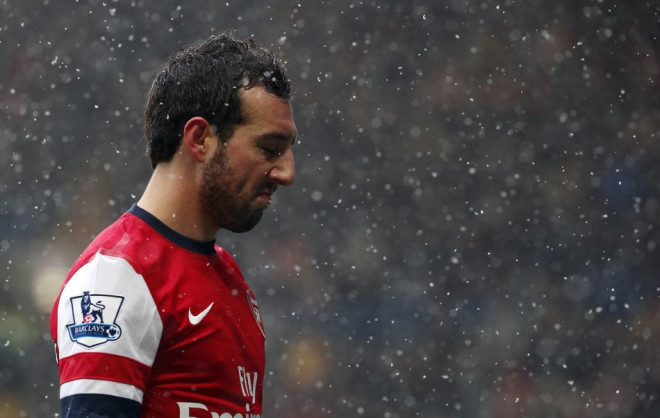 Arsenal playmaker Santi Cazorla has admitted Arsene Wenger's side will face the last part of the season exhausted due to the number of games they have played and the amount of injuries they have suffered.
With just five Premier League games remaining, the Gunners are currently fifth in the Premier League table, two points behind Everton, and will miss out on Champions League football if the Toffees win all their remaining games.
Yet at the same time they have the chance to put an end to a nine-year trophy drought by beating Hull in the FA Cup Final.
Cazorla is confident of both securing a Premier League top-four spot and conquering the FA Cup but admits Arsenal's squad go into their final few matches extremely tired.
"We have arrived tired, very tired. We have played many games and we have had many injuries," Cazorla told reporters after the FA Cup semi-final victory over Wigan.
"And against Wigan we had to play extra time. We should recover as soon as possible to be ready for the West Ham game. Fortunately we are going to get some players back. Szczesny is better and Diaby is already training with us and maybe can help as in the last few games."
Asked whether Arsene Wenger's future will change after reaching the FA Cup final, Cazorla said: "It was an important victory for everyone, for him, for the team, to change the dynamic after some bad results. Wenger is supported by Arsenal's trajectory. He needed a vote of confidence and the team backs him."
Asked whether they consider themselves favourites to win the FA Cup final against Hull, he said: "Many people may think we are favourites but as Wigan demonstrated in the semi-final, in just one game it is very difficult to beat anyone."
Furthermore, Cazorla hopes to overrtake Everton in the Premier League table by winning the five remaining games.
"We need to beat West Ham to keep up the fight with Everton. They have a more difficult fixture. Let's go game by game and try to win them all."
Asked whether he hopes to go to the World Cup with Spain, the former Malaga playmaker said: "Who knows? I have high hopes of it.
"It is a goal I want to achieve, I still have some important games at Arsenal before finishing the season and hopefully then I can be in the squad to try to make history again with Spain."