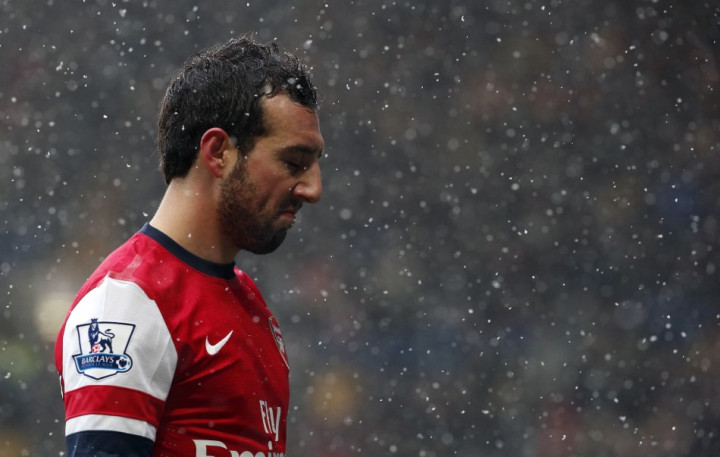 Arsenal playmaker Santi Cazorla has fuelled the rumours about his summer move to Atletico Madrid, refusing to commit his future to the Emirates Stadium.
Earlier last week Spanish newspaper AS reported Atletico recently approached the Spaniard to discover his intentions for the future – with Cazorla telling club officials he will be likely to return to La Liga.
Questioned by AS reporters about the chances of seeing him playing at the Vicente Calderon next season, Cazorla said: "Well, until the end of the World Cup I don't want to think about that."
"I have told my agents that whether there are any offers or nor I don't want to know (after the World Cup ends) to avoid rumours."
"Atletico have Koke, Juanfran... I know the club because I have played many years in La Liga but now I believe there is nothing. I just want to be focus in the World Cup."
Nevertheless, AS claims Atletico cannot afford his current salary and are going to ask Cazorla to consider a wage cut if he really wants to return to Spain.
The 29-year-old Spanish international just signed a new long term deal with Arsenal in March until 2017, increasing his salary to around £4m a year.
Furthermore it looks uncertain Arsene Wenger will let the Spaniard move away after he paid £15m to Malaga to secure his services in 2012 - with the Spaniard becoming a crucial player in his line-up.
But the speculations about his future continue and recently Atletico Madrid right-back Juanfran even revealed he was trying to persuade Cazorla to move to the La Liga champions.
"I'm trying to convince everyone that no one should leave, and with many of the selection Spanish national team. I'm trying to convince them to come to Atletico Madrid. Santi is one of them."