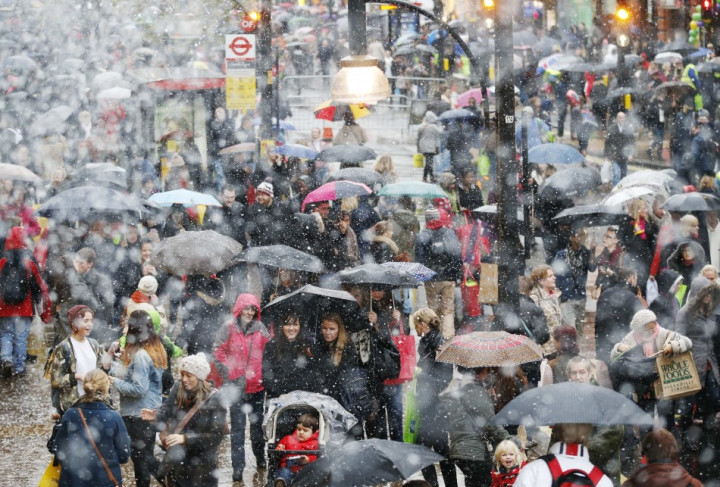 Sales at UK retailers were little changed in the first three months of this year compared to last, according to a survey of firms by the Confederation of British Industry, suggesting cold weather and tight wallets could tip Britain's fraglie economy back into recession.
Volumes were below the average for the time of year and weaker than had been anticipated, as winter refuses to release its icy grip on Britain despite spring having officially started. Despite the gloomy month, most of the 118 businesses surveyed expected a return to growth in April.
"This month we've seen the glimmer of hope for retailers fade away, with the news that six months of sales growth has come to an end," said Barry Williams, supermarket Asda's chief merchandising officer for food and chair of the CBI distributive trades survey panel.
"All eyes are now on April when retailers expect sales to return to form. However, pay freezes and the rising cost of living are hitting households hard and, added to a challenging economic picture, there may well be more touch trading conditions ahead."
Twenty-six percent of surveyed firms said sales volumes were up on the year, with the same number reporting a fall, giving a balance of zero - the lowest since August 2012. This is down from a balance of +8 in February.
A total of 37 percent said they were experiencing poor sales volumes for the year, with just 17 percent saying they were good.
Official retail sales data for February showed a sharp bounce of 2.6 percent growth, welcome respite for the high street after months of dampened activity because of the stagnant domestic economy, wider financial turmoil such as in the eurozone, and the squeeze on household incomes.
However, the CBI figures suggest that retailers can expect a return to the misery of before in part because of the sub-zero temperatures and snow covering the UK in March.
Kingfisher plc, which owns B&Q and Screwfix, blamed the bad weather in part for its 11.4 percent profit drop.
The abnormal weather has also renewed fears that the UK will suffer an unprecedented triple-dip recession as sectors of the economy see their activity frozen.
---
Follow @shanecroucher