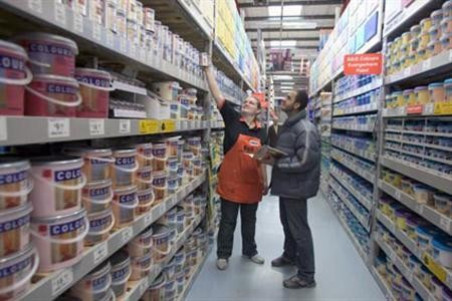 Kingfisher plc, Europe's biggest home improvement retailer, saw group profit slump 11.4 percent in what chief executive Ian Cheshire described as a "tough year" for the firm.
The global economic slowdown, an extended period of bad weather in Britain, and unfavourable exchange rates hit the owner of Screwfix and B&Q stores hard along 2012/13.
Pre-tax profit for the whole group was down to £715m across the year, from £807m in 2011/12.
"Whilst we have been unable to fully offset these headwinds, the hard work of our teams and our firm focus on our established programme of self-help initiatives means we ended the year in good shape with net cash on the balance sheet, higher market share and having generated economic return for our shareholders," said Cheshire in Kingfisher's preliminary results for the full year.
Group sales also took a dive, falling by 2.4 percent to £10.5bn.
Despite the profit and sales drop, Kingfisher lifted its full year dividend by 7 percent to 9.46p per share. In London, Kingfisher shares were up 1.69 percent on the day in early trading to 288.13p.
Kingfisher opened 70 new stores in the year, predominantly new space for Screwfix in the UK.
Outside of its main business in France and the UK, Kingfisher saw a sharp plunge in retail profit.
Its other international stores, in places such as Poland, Russia and China, pre-tax profit fell 19.8 percent to £150m.
Its French business - including the Castorama and Brico Dépôt stores - saw a profit decline of 6.3 percent to £397m, while UK profit was down 13.7 percent £234m.
Cheshire said they expect the market to remain challenging in the coming year, though he is "very confident" in Kingfisher's prospects.
"Despite the negative results, it is important to underline the fact that B&Q has actually gained share as its own declines have been less than those across the whole market," said Neil Saunders, managing director of retail analyst Conlumino.
"To a large extent this justifies the current strategy of investing in price which helps stimulate spend, defends against discounting activity at competitors and helps to make buying big ticket items like kitchens somewhat more palatable.
"The ongoing moves to make the process of DIY more engaging and interesting, through range and store improvements, has also helped B&Q beat the performance of the overall market."
---
Follow @shanecroucher