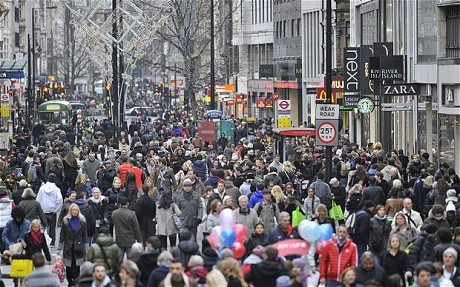 February's forecast-beating UK retail sales leapt 2.1 percent in volume terms on the previous month, despite a continued squeeze on consumer finances.
Sticky inflation and a real-terms wages cut did not keep British shoppers away from the High Street in one of the only strident numbers from the struggling retail sector for months.
UK retail sales value also grew by 1.8 percent in February, reported the Office for National Statistics (ONS).
"These increases were broad based with all the main retail sectors rising between January and February although by far the largest upward contribution came from the non-food sector," said the ONS.
Year-on-year, retail sales volumes lifted by 2.6 percent in February - the highest reading for 11 months.
CPI inflation hit a nine-month high of 2.8 percent in February. Earnings are rising by just 1.2 percent. This means incomes are effectively being cut because they are being outpaced by price growth.
Cuts to government welfare spending has also left some out of pocket, and the January 2011 VAT rise to 20 percent is still rippling through consumer spending.
However, the government is increasing the personal allowance threshold, the point at which earnings are taxed, to try and partly offset the increased cost of living.
The Trades Union Congress calculates that the poorest households will pay out four times more because of the VAT hike than they get back from lifting the personal allowance threshold.
Despite this people have been spending in downtrodden retailers during February, some respite for those firms who have been hurting from the wider economic malaise that has hampered consumer activity.
"Conditions remain tough, with no margin for error. Department stores continue to deliver strong results," said Deloitte's UK head of retail Ian Geddes.
"However, some sub-sectors, especially electrical, are seeing extremely varied performances. Those selling coveted technology gadgets, including tablets and smartphones, are enjoying growth, whilst those without struggle.
"The gap between the winners and losers is widening and so more casualties can be expected. However, the winners are benefiting from the closure of their competitors as they pick up the demand left behind, boosting their market share."
---
Follow @shanecroucher