The death of the cellmate of former NFL running back Lawrence Phillips has been ruled a homicide, clearing the way for murder charges against the one-time athlete.
Damion Soward, 37, was found unresponsive in his cell at Kern Valley State Prison in California on Saturday and died later in hospital. The county coroner determined he died of neck compression asphyxia — strangulation.
Phillips, accused of the murder, is being held in an isolation cell at the prison. He's currently serving a 31-year sentence for domestic violence, false imprisonment and theft. The former Los Angeles resident played for the St. Louis Rams, Miami Dolphins and San Francisco 49ers.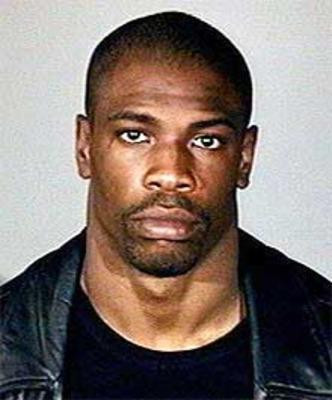 Before the 2005 criminal convictions that sent him to prison, Phillips had been arrested at least five times for assault. He was temporarily suspended from the Nebraska Cornhuskers team after he was charged with assaulting his girlfriend in 1995 but was allowed to finish out the season and went on to play for other teams.
Soward, a reputed gang member, was serving an 82-year-to-life sentence in the execution murder of a rival.
It's not know what might have triggered a conflict between the men.
Soward's grandmother told TMZ that she's "not angry, but sad" about her grandson's death. If he was "going to stay in jail for 80 years, maybe this was better," she added.
Earlier this week another former NFL player, one-time New England Patriots tight end Aaron Hernandez, 25, was sentenced to life in prison without parole for killing the boyfriend of his fiancée's sister.