A Washington lobbyist has said he is preparing legislation that would ban gay athletes from joining the National Football League, according to The Hill.
Jack Burkman has said in a statement he had garnered political support for the bill, yet no names of lawmakers were mentioned.
Burkman argues that NFL should not have to endure the immorality of a straight man and a gay man showering next to one another.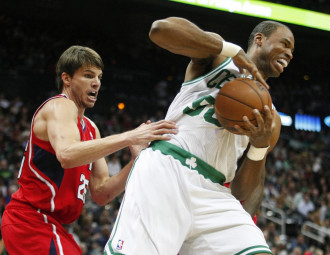 He said: "We are losing our decency as a nation. Imagine your son being forced to shower with a gay man. That's a horrifying prospect for every mom in the country. What in the world has this nation come to?"
Burkman urged Congress to act in his statement, saying: "If the NFL has no morals and no values, then Congress must find values for it."
He is the founder and president of his own lobbying firm, JM Burkman & Associates. He has also worked as at law firm Holland & Knight. IN the 1990s, he served as council to the then-rep Rick Lazio. The four-lobbyist firm specialises in helping companies secure contracts with the federal government.
According to Burkman, he came up with the idea after Michael Sam, a college football star, publicly revealed he was gay in interviews with ESPN and the New York Times earlier this month. This week, the University of Missouri defensive told reporters at the NFL's Scouting Combine that his focus now was simple earning himself a job in the league.
If drafted, Sam will be the first openly gay player in the league.
Several Democratic lawmakers vocally supported Sam after he revealed his sexual orientation. Michelle Obama called him an "inspiration". She added: "We couldn't be prouder of your courage both on and off the field."
On Sunday, Jason Collins finally returned to the court to become the first openly gay individual to play in an NBA game. The newest member of the Brooklyn Nets made his first appearance against the Los Angeles Lakers.
Collins, 35, signed a 10-day contract with the team and has played for five other NBA teams. He came out publicly last April, in an interview with Sports Illustrated magazine.