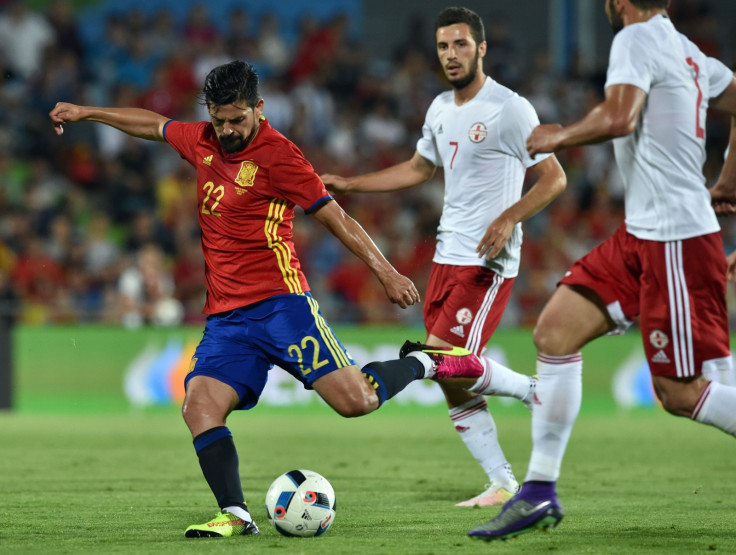 Celta Vigo president Carlos Mouriño has confirmed he expects Spain international Nolito to leave the club during the coming summer transfer window, amid reports linking him with Barcelona, Tottenham Hotspur and Manchester City. The club chief has told suitors that they will need to pay his €18m (£14.3m, $20.1m) release clause in full, as Celta are not ready to negotiate a lower price.
The 29-year-old forward was close to a Nou Camp move during the January transfer window, after Barcelona boss Luis Enrique identified him as the perfect man to serve as back-up to Lionel Messi, Luis Suarez and Neymar.
However, the Spain international eventually stayed after the clubs failed to reach an agreement to secure his services, as the Catalans then couldn't afford to pay his release clause.
Recent reports claimed Barcelona were considering a renewal of their attempts to sign the player during the coming mercato, while Gerard Pique added fuel to the saga after claiming Nolito would represents a "bargain" signing for the Catalans.
However, later reports suggested his future could lie in the Premier League.
Spanish TV Tele5 reported in the preview of the Spain's 1-0 victory over the Czech Republic that the former Barcelona winger was inching closer to a move to Manchester City where he would reunite with Pep Guardiola, adding that Tottenham were also monitoring the situation.
Mundo Deportivo and The Sun later confirmed that Guardiola wants to make Nolito his second signing of the summer, having already recruited Ilkay Gundogan from Borussia Dortmund.
The Celta Vigo president has now confirmed he expects one of the clubs interested to pay the release clause in full during the coming transfer window.
"I think [Barcelona's interest in Nolito during the January transfer window] was very real, but there was no agreement. I think Nolito will leave Celta this year," Mouriño said to Reporte Jalisco.
"Nolito's contract has a buy-out clause of €18m. Whoever pays it will take him. There is not even negotiation [needed if they meet the clause] but Celta will not sell him for less than €18m. If someone pays the clause, we have to let him go whether we like it or not. At this time we wouldn't [accept a swap deal with other players]. We believe that we must form the team with the players we want and not with those that other clubs don't want.
"We always say that if someone gives us €18m we will lose a player who will be very difficult to replace, but with €18m, an amount that we have never had before, we would strengthen the team. We would lose an individuali but would bolster the team. Therefore, if someone signs Nolito for €18m we would be happy, and if he stays it would be great for us because he is a magnificent player and has three years left on his contract at Celta."