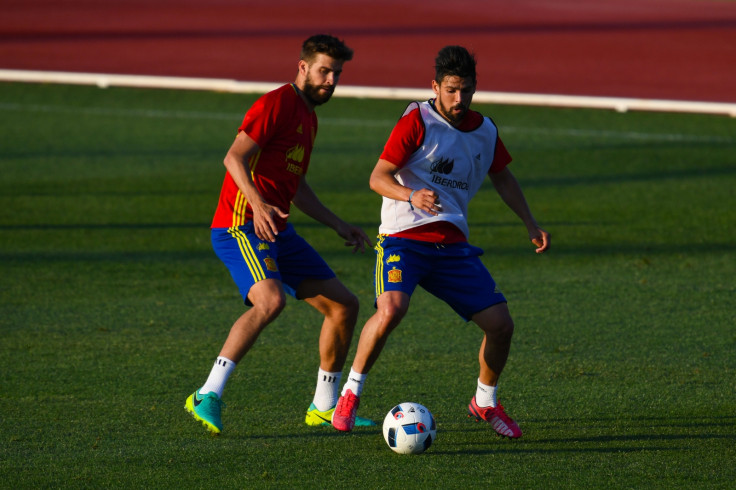 Gerard Pique has encouraged Barcelona to renew their pursuit of Celta Vigo star Nolito in the coming transfer window, saying his €18m (£14.1m, $20.4m) release clause represents a bargain. The Spain international admits the decision is out of his hand, but feels his national teammate would be a great addition for Luis Enrique's side.
Nolito was earmarked as Barcelona's top priority for the January transfer window, after Luis Enrique demanded the signing of a back-up for his attacking trident of Lionel Messi, Luis Suarez and Neymar. The boss coached the versatile forward for both Celta and in Barcelona's B-team, and considered him an ideal fit for the Nou Camp as he would not need to adapt to the club's passing game.
However, Barcelona officials were unable to sign the player as they couldn't afford to meet his full release clause. The club's economic statutes state that any board that allows Ebitda (Earnings Before Interest, Taxes, Depreciation and Amortisation) multiplied by two to exceed the club's overall debt must stand down.
The situation is different now ahead of the summer mercato, as the new tax year means Barcelona have fresh cash to spend. However, the current La Liga champions have been linked with a number of other options, as many believe they would be better off signing a younger alternative to the 29-year-old Nolito.
However, with Borussia Dortmund beating them to the signing of Ousmane Dembele, it was reported they could renew efforts to sign Nolito.
Barcelona technical director Robert Fernandez did not deny those speculations in a press conference last week, saying: "[Nolito] is a player we tried to sign [in January], but as you know, we were unable to do so. At this moment, I can not confirm or deny anything. Speaking of players would impact on negotiations. He is under contract at Celta. A lot was spoken about him and I think that negatively impacted things. I have the utmost respect for the player and Celta Vigo."
Pique, who plays alongside Nolito in the Spanish national side, has no doubt he would be a perfect addition for Barcelona.
"Whether Nolito should or shouldn't come to Barcelona is not my business. It is not my job to decide that but Nolito, considering his price and how inflated the market is, looks a bargain. It has been said [his release clause] is €18m," Pique said to Onda Cero. "I do not know if at the end we will complete [his signing] or not because it is not my job but he would be a great player for Barcelona."
However, Barca may face competition from Atletico Madrid for the player's services. AS reported on Thursday (9 June) that Diego Siemone saw the player as key for the coming window and is ready to meet his release clause.