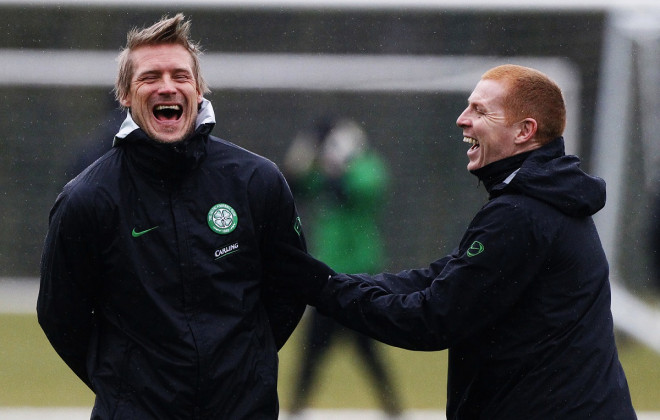 Johan Mjallby has announced he will step down as assistant manager of Celtic at the end of the season.
The former Sweedish international, who has been manager Neil Lennon's deputy since 2010, is stepping down to "seek some different opportunities".
Mjallby, who joined the club in 1998 and won three league titles as a player with the Glasgow giants, said it was with "sadness" that he announced his departure.
The 43-year-old added: "I have enormous affection for Celtic Football Club and it is with sadness that the time to leave has arrived.
""The club has been part of my life for almost two decades and I have been dedicated to them in every way, first of all as a player and then in management.
"As a player, it was a time when we achieved great success and I had the privilege to work with football people and players who were first-class and real quality. We had some great moments and memories I will always cherish."
The former defender also won two Scottish League Cups and two Scottish Cups under then-manager Martin O'Neill before rejoining the current Scottish champions under Lennon.
The Celtic manager said: "I will be very sad to see Johan leave the Club. He has given us such great service over a number of years and he will always be a big part of Celtic.
"When I was given the chance to be in charge of the team, Johan was the obvious choice to join me in tackling the challenges ahead and from day one, he has been a very important part of our success.
"He was always respected by players and our supporters, who knew how committed he was to Celtic. Johan is a great man and will always be a great friend.
"I know whatever challenge Johan chooses next, he will be a great success and I wish him and his family nothing but good fortune for the future."