Chinese electronics company Lenovo reveals a 27in touch-screen 'table PC' at CES 2013.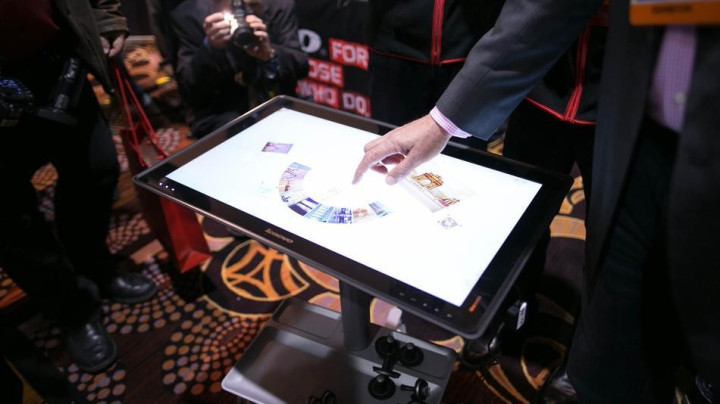 Follow all the news, reviews and rumours on our CES 2013: Live Blog
Similar in concept to the Sony Tap 20, the IdeaCentre Horizon has a 1080p resolution screen, weighs around 17lb and is 1.06in thick. It also has an Intel Core i7 Processor, a hinge that allows it to be propped up like a desktop monitor and its touchscreen can detect up to 10 fingers.
Given its weight and size, the Horizon is not an ideal portable tablet and is instead intended to be used by multiple people as a touch-sensitive gaming device. It comes with several peripheral accessories including four joysticks and electronic dice, which are intended to combine physical and digital gaming into what Lenovo is calling "phygital."
Games tested on the Horizon by The Verge at CES included Monopoly and air-hockey, with the tech publication reporting that hitting virtual hockey pucks with a real joystick felt "a little odd."
The Horizon can also be used as an office computer that can be operated by multiple people at once. Laying it flat opens up its wheel-based, "Moon Dial" interface that allows users to cycle through apps and photographs, and move icons around the touch-screen with various gestures. The 10 finger sensitivity means that more than one person can do this at once.
The Lenovo IdeaCentre Horizon will be available in the summer, according to Lenovo and will start at around $1,699 (£1,060). In a statement issued on the company's official website, Peter Hortensius, president of Lenovo's Product Group said the Horizon was about making shared interpersonal experiences:
"We've seen technology shifts across the four screens, from the desktop to the laptop, tablet and smartphone, and yet, while people have more computing power than ever before, there is still room for technologies like Horizon that bring people together," said Hortensius. "Horizon makes personal computing interpersonal computing with shared, collaborative experiences among several people."