Windows 8 is a huge moment for Microsoft. Not just a new operating system with some touch controls, but an entirely new ecosystem that brings together desktops, laptops, tablets, hybrids, smartphones and even the Xbox 360.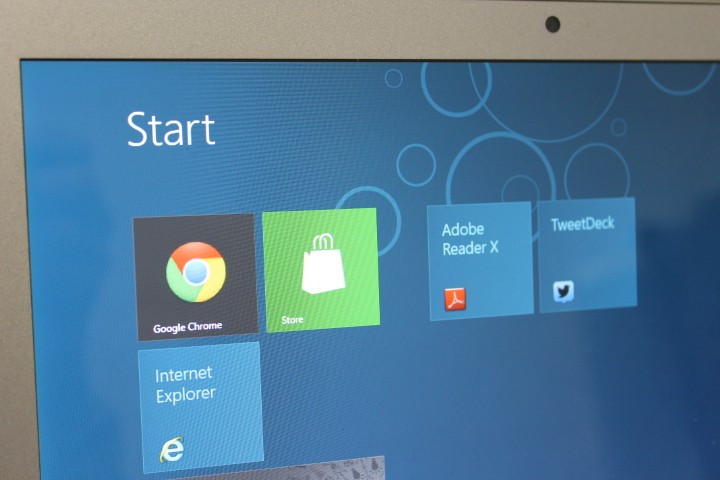 Microsoft gave itself a new logo recently, and rightly so, as the changes due to start at midnight tonight when the Surface tablet goes on sale will be felt across the entire consumer technology landscape - and, mostly importantly, the change has to work.
By sharing an operating system across multiple device, Microsoft has opened the door for hardware manufacturers to get more creative with how they design computers; no longer is the consumer faced with a choice of just desktop or laptop.
Instead, there is a huge range of devices of all shapes and sizes that blur the boundaries between tablet, laptop and desktop.
Below we've looked at 10 of the best and most innovative Windows 8 machines you will be able to buy over the coming weeks.
Desktops:
Sony Vaio Tap 20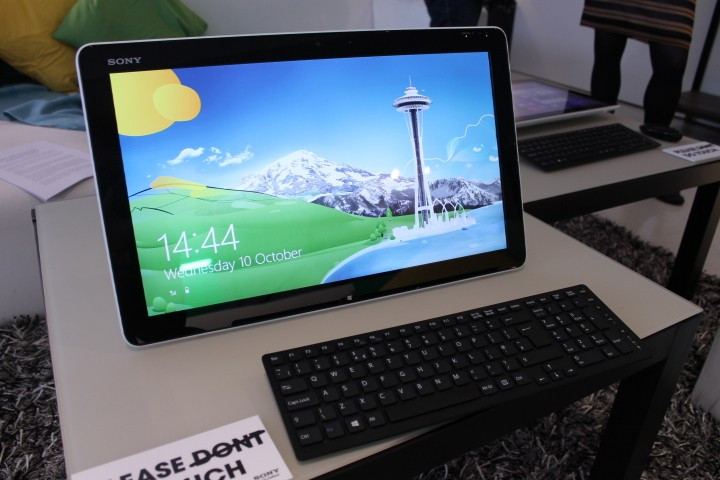 Touch is, of course, a major feature of Windows 8 and is used to swipe between open applications, call up the bar of settings 'Charms', close applications and interact with the new Start screen.
While this works great on tablets - and arguably laptops, more on that later - manufacturers have taken the bold step of adding touch to all-in-one desktop computers, and with the Vaio Tap 20, Sony has even added a battery to make it completely wireless.
Advertised as a "family table-top PC", the Tap 20 is a 20in all-in-one desktop running Windows 8 and designed to be a device that you move around the home. At a hands-on event recently Sony told us that it could be used to follow recipes in the kitchen, then moved to watch a film on in another room, for example.
The battery is only claimed by Sony to last three hours, so it's not going to last all day without being plugged in, but we can see the potential here of having a computer/huge tablet that can be moved around easily.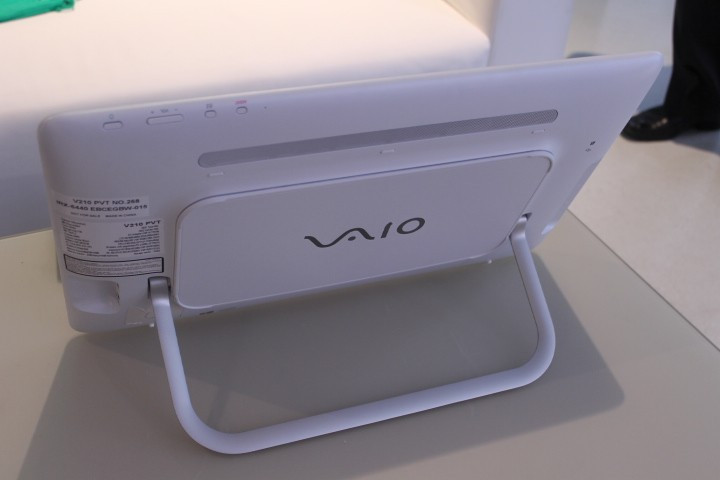 The Tap 20's stand adjusts to it can be propped upright or laid flat on its back, so you can either watch a film on it, or lay it flat to play games with other users.
While the Tap 20's an attractive and well thought-out device, the 1,600 x 900 screen resolution could be higher, and it's really quite heavy at over 5kg and not something you'd move around very often.
Inside, there's the latest Intel Core i3, i5 or i7 processor, 4GB or 8GB of RAM, Wi-Fi and a 750GB hard drive.
The Tap 20 will go on sale at the end of this month, but Sony is yet to reveal the UK prices - but expect to see it cost around £1,000.
Samsung All-in-One Series 5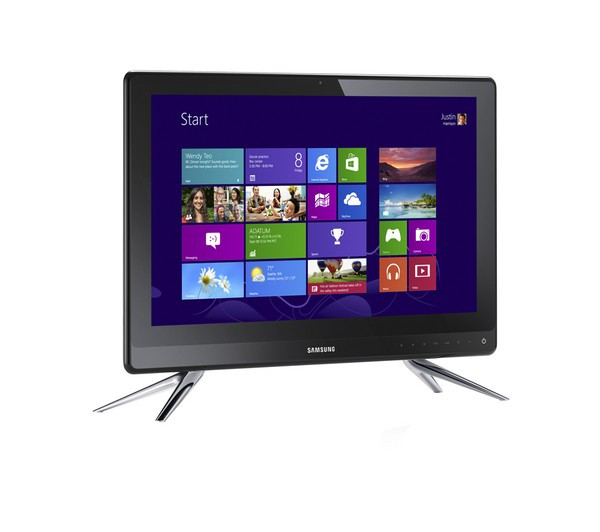 Another all-in-one Windows 8 desktop, the Samsung Series 5 is a 21.5in touchscreen with a full HD 1920 x 1080 resolution sat on two chrome legs.
Unlike the Sony, Samsung's Series 5 does not have a battery and is mains powered only, but the extra screen resolution more than makes up for its lack of portability.
Inside, there's an Intel Core i5 2.9Ghz processor with 4GB RAM, a 500GB hard drive, Wi-Fi, Bluetooth 4.0 and a 720p HD camera above the screen.
As for connections, the Samsung Series 5 gets two USB 2.0, two USB 3.0, HDMI in, HDMI out, Ethernet, headphones/speaker jack and a DVD drive, all of which makes it an attractive multimedia computer.
Along with the touchscreen, Samsung includes a wireless keyboard and mouse, and the device will go on sale along with Windows 8 tomorrow, 26 October and can be pre-ordered now for £649.
Dell XPS One 27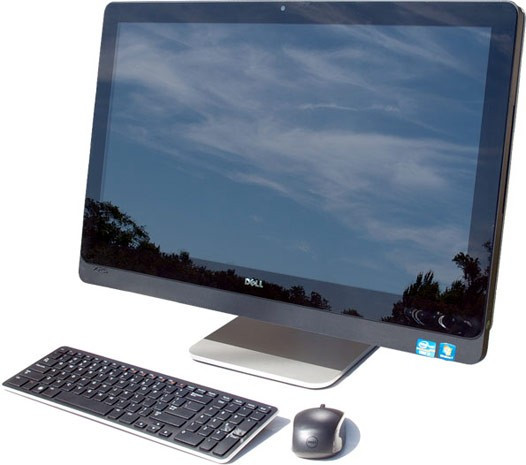 If 20in or 21.5in isn't enough, then Dell has a 27in all-in-one desktop running Windows 8, powered by a range of Intel Core i5 and i7 processors with clock speeds of up to 3.1GHz and up to 16GB of RAM and a 2TB hard drive.
Aimed at being a high-end multimedia PC, the XPS One 27 has four USB 3.0 ports, HDMI in and out, and a TV tuner.
Built before Windows 8 became available, the Dell does not have a touch screen and instead relies on a conventional mouse and keyboard to be controlled - it will be interesting to see how non-touch devices get along with Windows 8, as we've found the touch gestures to feel clunky when controlled with a mouse.
With Windows 7 the XPS 27 retailed for between £1,100 and £1,800, but prices of it running Windows 8 out of the box have yet to be announced.
Laptops:
Acer Aspire S7
Shown off briefly at IFA in August, the Acer Aspire S7 is an aluminium Ultrabook set to rival the Apple MacBook Air, available with an 11.6in or 13.3in touchscreen and of course runs Windows 8.
Built from the ground up as a Windows 8 laptop - rather than being an update to a previous model - the S7 is powered by an Intel Core i5 or i7 processor, has a full HD 1080p display, and storage is up to 256GB of flash.
IBTimes UK spent some time with the S7 over the summer and found it to be one of the most compact and sleek Ultrabooks on the market, and although we weren't able to fully use Windows 8, the laptop has the potential to be a real flagship for the operating system and become a worthy rival of the MacBook Air.
Due to its slim size, the S7 is let down when it comes to connections. There's a single micro HDMI port that you'll need an adaptor for, two USB 3.0 ports and an SD card slot.
The S7 will arrive in the UK for the end of October with prices starting at £1,150 for the 11in model with an i5 processor, 4GB of RAM and a 128GB solid state disk.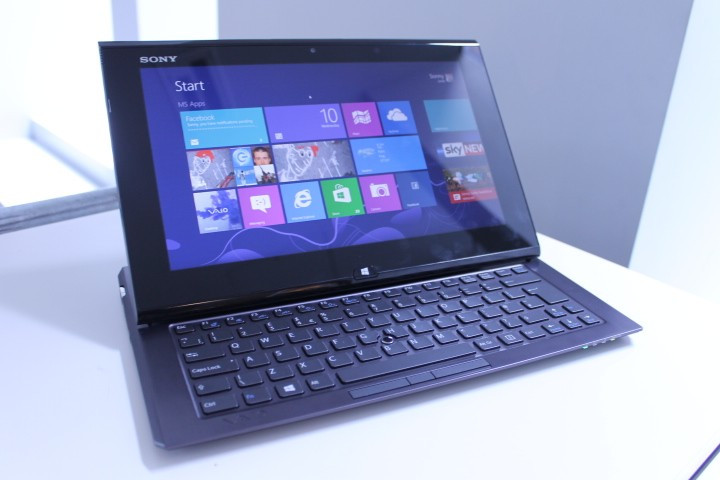 Sony's Vaio Duo 11 features a sliding mechanism - which the Japanese company calls Surf Slider - that allows the screen to be slide up to turn a tablet into an Ultrabook.
Although the 11in screen makes the device feel larger than most other tablets, it's not overly cumbersome, despite having a full-fledged laptop inside. The Vaio Duo 11 will run the full version of Windows 8 rather than Windows RT, meaning using the tablet aspect won't be as good as some other tablet-only devices.
Closed, the user will tap away on the 11.6in Full HD screen, with a resolution of 1920 x 1080 which uses Sony's own OptiContrast technology which promises great viewing angles and better viewing in bright conditions.
Helping you control the interface on-screen will be a digitizer stylus pen which comes with a range of tips to give you more options in terms of harder or softer writing feel.
That stylus works in a very similar way to the S-Pen on Samsung's Galaxy Note 2 smartphone, in that the screen knows when the stylus is close and a) displays a pointer on-screen and b) will respond to only the stylus tip, so you can lean on the screen to write, safe in the knowledge that your hand will not be smudging the virtual ink.
There's no trackpad so instead Sony has installed a rubber nub in the middle of the keyboard, similar to the one used on Lenovo ThinkPad laptops. It works well enough, but will certainly take some getting used to.
The Vaio Duo 11 is powered by third generation Intel Core processors, ranging from Core i3 all the way up to Core i7. It will be available with either Windows 8 or Windows 8 Pro and can be configured with up to 8GB of RAM.
In terms of storage the hybrid will be available with either 128GB SSD or 256GB SSD.
Connectivity is excellent, with two USB 3 ports; HDMI, Ethernet and VGA ports; a combined Memory Stick Duo/SD card port; as well as Bluetooth 4.0 and Wi-Fi n.
You also get front and rear cameras as well as NFC, GPS, accelerometer and digital compass.
The laptop/tablet measures 320 x 199 x 17.85mm and weighs in at just 1.3kg.
The Vaio Duo 11 is expected to go on sale at the end of October and will cost in the region of £1,000.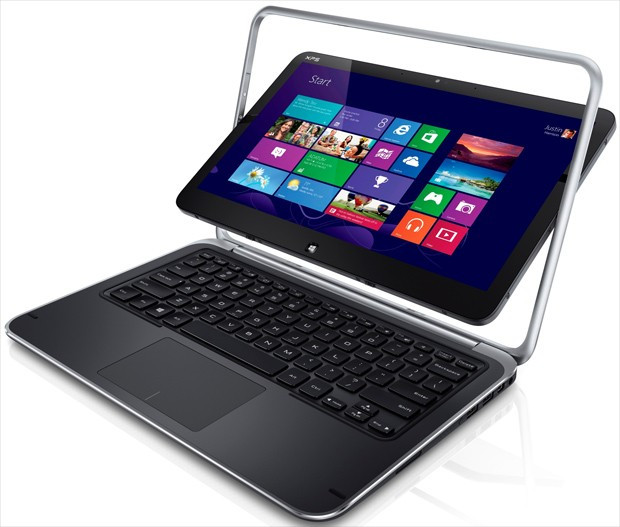 While all-in-one desktops and Ultrabooks are nothing new, the XPS 12 Convertible from Dell is something rather different - it's a Windows 8 Ultrabook that can be flipped around to create a tablet.
Using a clever system that lets the screen rotate through 180 degrees inside its own bezel, the laptop transforms from laptop to tablet - albeit a rather chunky one - with ease and does away with the need to dock a tablet to a keyboard in order to get any proper work done.
The XPS 12 Convertible is powered by an Intel Core i5 1.7GHz processor with 4GB of RAM and a 128GB solid state drive; the screen measures 12.5in and is full 1080p HD. The device weighs 1.5kg and uses Gorilla glass, machined aluminium and carbon fibre to keep it strong and light.
Using elements from the far end of the periodic table don't come cheap though, and the laptop/tablet will cost £1,000 when it goes on sale next month - Dell is quoted an estimated delivery date of 15 November.
Hybrids
That XPS 12 is one way of combining a tablet and laptop into one, but the idea of a hybrid device that can be separated from its keyboard has been around for much longer than Windows 8.
Asus's Transformer Pad 300 and Transformer Pad Infinity are examples of Android-powered hybrids that mate a 10in tablet with a keyboard.
For Windows 8, Asus has a wide range of products ready and waiting, and this includes the Vivo Tab and Vivo Tab RT.
With the former running full-fat Windows 8 and the latter running the slimmed down and touch-optimised Windows RT, the Vivos were first announced at IFA in August.
At first glance, the two devices look near-identical and you could be mistaken for thinking they are conventional Ultrabooks, it's only when you open the Vivo Tabs up and peer around the back that the integrated hinge and dock reveal that the display can be easily removed.
The Vivo Tab RT runs the touch-optimised Windows RT operating system, while the Vivo Tab makes use of the full version of Windows 8, which it displays on its 11.6in screen - one inch larger than the Tab RT.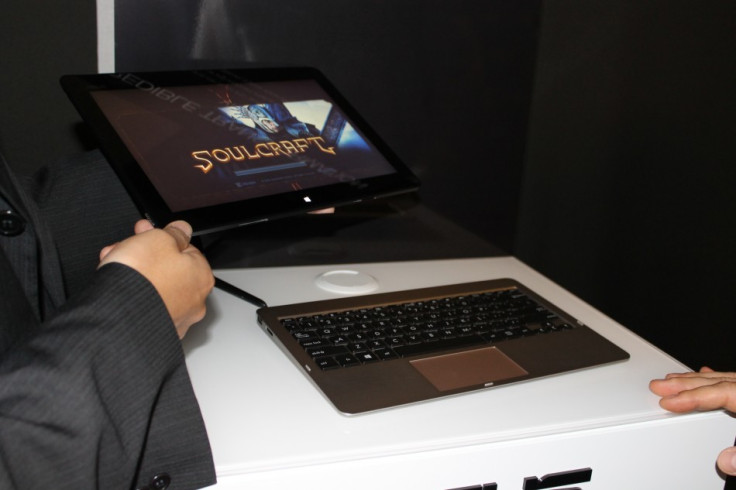 Other differences between the two models include storage - Vivo Tab has 32GB, Vivo Tab RT offers 64GB; and battery life - the Tab can manage 13 hours while the Tab RT can keep running for 15 hours when docked to the keyboard, which contains extra battery capacity for both models.
With their cool-to-the-touch, aluminium designs, both Asus convertibles looked and felt great during our limited time with them, although they are of course a little top-heavy, with the tablet/screen weighing more than the keyboard.
When used as a tablet, the 11.6in Tab felt a little cumbersome, as we're used to tablets no larger than the 10.1in devices from Samsung, and its 675g weight would get uncomfortable if you were holding the tablet up to read from.
At an inch smaller and more than 150g lighter, the Tab RT feels more like the tablets we're used to, and the quad-core Tegra 3 processor by Nvidia saw the tablet brush off everything we had to throw at it - we'll be sure to test both tablet's performance in more detail when we get hold of them again soon.
Expected along with Windows 8 on 26 October, the Vivo Tab will cost £699 and the Tab RT will cost £549.
Samsung Smart PC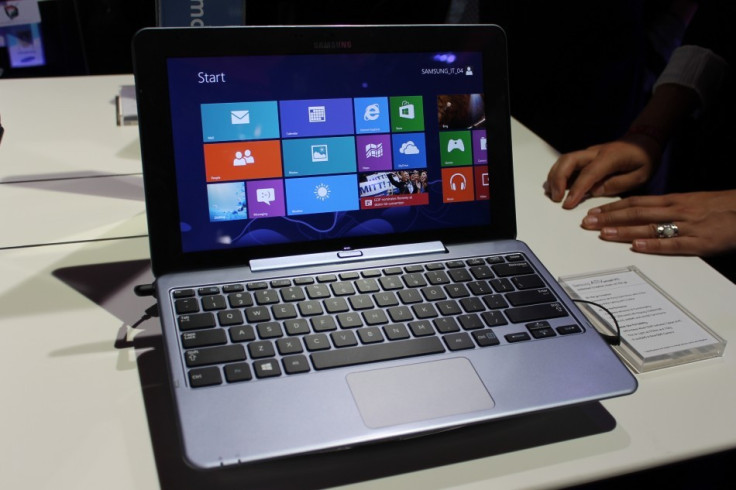 Announced at IFA in August, the Samsung Ativ Smart PC and Smart PC Pro are two transformer hybrids that take on the same design as Asus's Vivo Tab, but both versions run full Windows 8, rather than RT.
Both models get an 11.6in display, but the resolution of the Pro is Full HD at 1920 x 1080, while the regular model has to make do with 1366 x 768.
But, thanks to its frugal Intel Atom processor and 2GB of RAM, the Smart PC can achieve a claimed 13.5 hours of battery life, whereas the Pro - with its Intel Core i5 and 4GB of RAM - can manage a less impressive eight hours.
Both devices get 128GB of flash storage and both appear to be almost identical, save for the Pro being 2mm thicker and 134g heavier, tipping the scales at a fairly weighty 884g without the keyboard.
The weight really shows and the tablet weighs considerably more than the keyboard dock which it connects to, causing the device to fall backwards while adjusting the screen angle - although it was being manhandled by a pack of eager journalists at the time, so sitting on your desk it should be OK.
We only got a few minutes with each device back in August, so it's impossible to say yet how the two compare in terms of performance, but we're pleased to say that both offered bright and crisp 11.6in screens, and the keyboard docks provided good feedback.
Those keyboard docks house all of the Ativ Smart PC's ports, which include two USB 2, one USB 3, mini HDMI and microSD.
HP Envy x2
Finally for the hybrids, we have HP. A computer manufacturer that has lost its way somewhat recently, HP will be hoping that the Windows 8 Envy x2 will put the wind back into its sails.
The device is powered by a 1.8GHz Intel processor and the 11.6in screen has a resolution of 1366 x 768, the Envy x2 misses out on Full HD, but does get Beats Audio, an HD front-facing camera and NFC.
HP has given the Envy x2 full Windows 8, meaning it can run most older Windows programs - something RT is unable to do.
As with all other hybrids, there is a full-size keyboard and a decent-sized trackpad, while the dock and rear of the tablet is finished in brushed metal, giving a similar appearance as the Asus Infinity.
HP is pricing the Envy x2 at £799.99 and it will be released after the 26 October launch of Windows 8.
As we have seen, Windows 8 has thrown up some interesting takes on the conventional computer. Hybrid devices that can act as two different devices are what everyone wants, but Windows 8 innovation doesn't stop with a fancy keyboard dock.
With the Taichi, Asus has decided that what we all need is a laptop that has a screen on both sides of the lid, neither of which are secretly a removable tablet.
One display is as you would expect sitting above the keyboard, while the other is on the outside of the lid, and Asus claims this design lends itself to a wide range of functional uses - and isn't just a gimmick.
An obvious benefit of this design is providing the combination of laptop and tablet in one, without going down the Transformer route of docking a tablet into a detachable keyboard. Instead, the Taichi is one device, and the external display can act as a tablet when the laptop is closed.
We got a first look at Asus Taichi, and while using it as a Windows 8 tablet is clever, it makes for a rather fat and heavy tablet with the lid closed. Carrying that keyboard around whether you like it or not is certainly a compromise, and one we're not sure many consumers would settle for.
After seeing the Taichi at IFA we were convinced that it would never really see the light of day, and would instead remain a concept, but we were wrong.
With its Intel Core i5 1.7GHz processor, 4GB of RAM and 128GB of flash storage (and of course the two screens), the Taichi will arrive soon after Windows 8, priced at £1499.99. If a laptop with two screens is what you really, really want.
Must Read:
Windows 8 - Everything You Need To Know
Microsoft Surface Review of Reviews
Strict WIndows 8 Restrictions Will Affect Game Development