Lenovo has announced the ThinkPad Helix and IdeaPad Yoga 11S with Windows 8 at the 2013 Consumer Electronics Show (CES) in Las Vegas.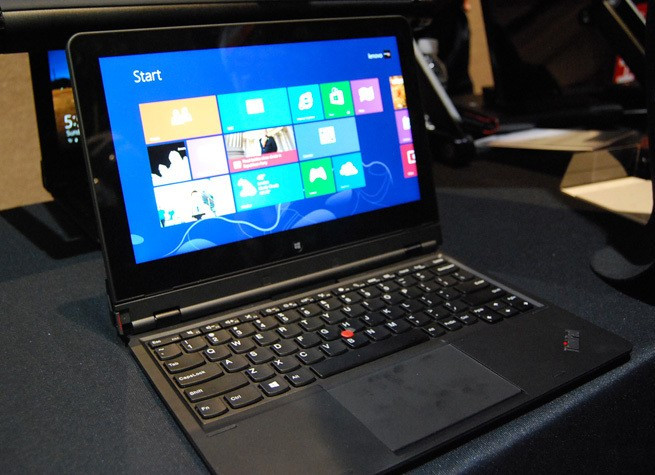 Follow all the news, reviews and rumours on our CES 2013: Live Blog
Two latest additions to Lenovo's family of convertible laptop-tablet devices- ThinkPad Helix and IdeaPad Yoga 11S have made their appearance at CES 2013.
The Lenovo ThinkPad Helix is a convertible device featuring a "rip and flip" design which can be used in different positions. The device functions as an Ultrabook as well as a tablet, thanks to a clever hinge; the 11.6in tablet can also be detached from its base.
When connected though, a clever cooling system is brought into play, allowing the processor (up to Intel Core i7) to be overclocked for increased performance.
The screen can be docked into its keyboard base forwards or backwards (facing away from the keyboard) and battery life is claimed to be five hours for the tablet, and a further five from the keyboard dock.
Around the back you'll find a 5-megapixel camera, along with a 2-megapixel camera on the front for video calls; there's also NFC for contactless payments or copying data from one device to another, and LTE for connecting to high-speed mobile broadband; tucked away inside the screen you'll find an active Wacom stylus for writing on and interacting with the screen.
IdeaPad Yoga 11S
The Lenovo's IdeaPad Yoga 11S is powered by third generation Intel Core i5 processor and runs the Windows 8 operating system. Just like its predecessor, the IdeaPad Yoga 11, users can work with Yoga 11S as a laptop or flip the device's screen to turn it into a tablet. In addition, it can be converted into Stand or Tent modes.
The IdeaPad Yoga 11S sports 11.6in HD IPS display with 10-finger multi-touch functionality. It will be available in Cotton Candy Pink, Silver Grey and Clementine Orange.
Pricing:
The ThinkPad Helix and IdeaPad Yoga 11S will be priced from $1499 (£920) and $799 (£490) respectively.
Availability:
The ThinkPad Helix and IdeaPad Yoga 11S will be made available starting in late February and June respectively via retailers, business partners and official website of the company.