Samsung has announced a new range of wireless home cinema products at the 2013 Consumer Electronics Show (CES) in Las Vegas.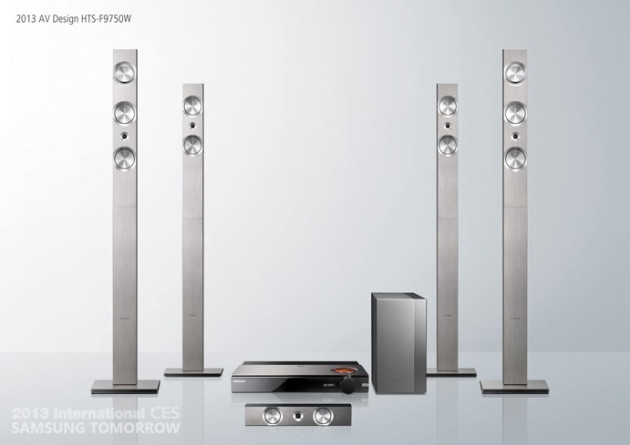 Follow all the news, reviews and rumours on our CES 2013: Live Blog
Samsung Electronics has announced a range of Audio Video (AV) products that feature wireless connectivity, including a soundbar that can connect to a TV via Bluetooth.
The new line-up of home cinema gadgets will be on display at the South Korean manufacturer's booth, at #12004 in the Central Hall of the Las Vegas Convention Center (LVCC).
Vacuum Tube Soundbar
The Vacuum Tube Soundbar (HW-F750) integrates a vacuum tube amplifier into a soundbar and can connect to a TV set via Bluetooth. The device also features a gyroscope sensor to assess positioning and location of the soundbar, which is expected to optimise sound quality. Finally, with the AirtrackON function activated, users will be able to control the Vacuum Tube Soundbar using the television's remote control.
Portable Wireless Bluetooth Speaker (DA-F60)
The new Portable Wireless Bluetooth Speaker comes with Near Field Communication (NFC) technology, to provide an easier connection with other NFC-enabled devices, such as a smartphone or a tablet. Like the Vacuum Tube Soundbar, this product can also be used as a wireless television speaker. The device features built-in apt-X codec technology that is supposed to produce improved performance and a high-quality sound.
7.1 Channel Home Theatre System (HT-F9750W)
Samsung claims this home cinema system was designed specifically for the company's 2013 range of televisions and can produce sound up to 1,300 watts. The product uses the South Koreans' proprietary vacuum tube and amplifier and the latest DTS® Neo fusion codec, also exclusive to Samsung. The company also claims that the inclusion of a Ceramic Polypropylene Injection Diaphragm (CPID) speaker expands sound resolution so every note is distinct.
Premium Blu-ray Player (BD-F7500)
The BD-F7500 is claimed to be able to transform ordinary SD and HD content into higher resolution video. It features a 900MHz x 2 high-performance dual-core chipset and the company's Smart TV technology, including Smart Hub and AllShare.