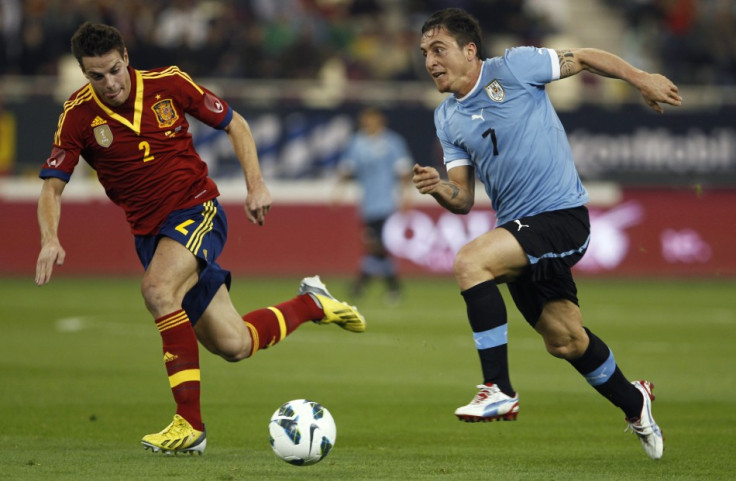 Chelsea star Cesar Azpilicueta has said he will fight hard next season to convince Vicente del Bosque he deserves a spot in the Spanish national team's Euro 2016 squad, after falling out of favour for the national side.
The 25-year-old full-back has become one of the most important players for Chelsea in the last two campaigns at Stamford Bridge.
Signed as a right-back, Azpilicueta dislodged Ashley Cole from the left-back role in the 2013-14 season and kept his spot in 2014-15, despite the arrival of Brazilian international Filipe Luis from Atletico Madrid.
However, his form at Chelsea has not been enough to impress Del Bosque. The Spanish gaffer included him in the squads for both the 2013 Confederations Cup and the 2014 World Cup, but he appears to have fell out of the failure since the latter. In a catastrophic attempt by Spain to retain their title, Azpilicueta started in the defeats to both Chile and the Netherlands.
Azpilicueta appears to be behind a variety of full-backs in the Spanish pecking order right now, including Jordi Alba, Juan Bernat, Atletico Madrid's Juanfran and Real Madrid's Dani Carvajal.
But Azpilicueta has not given up hope and is looking to prove to Del Bosque he deserves another chance.
"I played the Confederation Cup and the World Cup in Brazil and I am looking forward to playing in Euro 2016 too. That tournament will be in France where I spent two great seasons [at Marseille]," he said, according to Marca.
"I will fight to be there. I wish you can see me there".
Meanwhile, Azpilicueta has lavished on praise Mourinho, claiming the Portuguese manager gets the best out his players thanks to his challenging attitude.
"Mourinho is very demanding. You have to give your maximum in all the training sessions. It doesn't matter how did you played the previous game because you have to prove yourselves every day. That makes the team always at their best," he added.