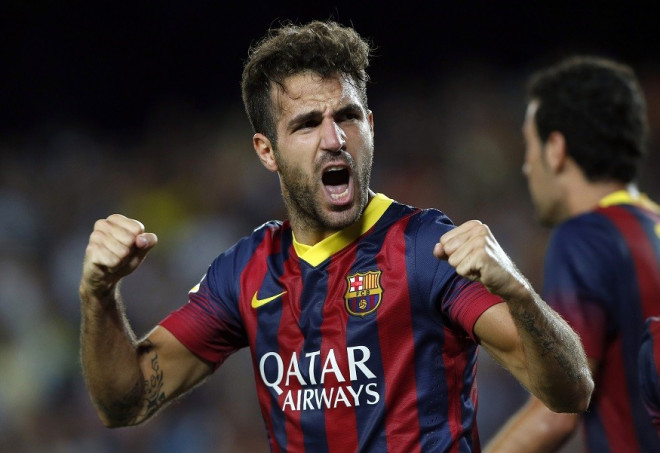 Cesc Fabregas has hit back at Jose Mourinho for his comments regarding Barcelona ahead of their crunch tie against Manchester City at the Etihad Stadium.
The Catalans rode on the back of a Martin Demichellis red card to beat the Citizens 2-0, thus putting one foot into the quarter finals with the 2011/12 Premier League champions scheduled to visit the Nuo Camp in March for the second leg.
It will take a performance of miraculous proportions for the English side to take anything from the fixture, with the four-time European winners a class apart at home.
Mourinho was the manager of the Real Madrid side last season who trailed the Catalans by 15 points to concede the La Liga title.
However, reinvigorated by the responsibility handed to him by Roman Abramovich, the Portuguese manager is looking to put pressure on his counterparts in the Premier League as he looks to secure his third league title with Chelsea after 2006.
"Of course by history Barcelona is the favourite, but this Barcelona, this season, is showing that it is not the same in previous years. Of course, they have [Lionel] Messi - he is special - and they have more than him. But I think this is the worst Barcelona of many, many years," Mourinho had said.
Chelsea are currently top of the Barclays Premier League, one point above Arsenal and two above City, with Manuel Pellegrini's side having played a game less than the competition. However, with City losing 2-0, it is a chance for Mourinho to take his side into the quarter finals, having to face Galatasaray in the round of 16 next week.
Fabregas, who played an important role in Barcelona's triumph, left no leaf unturned in giving a piece of his mind to the Portuguese manager.
"Some people were talking a bit too much before the game and now they have to shut up for a few days. We had a great result tonight. The fans put so much pressure on and that's what makes this so win special. We had a point to prove, and we did it very well," Fabregas said.