Napoli 2-0 Arsenal

Marseille 1-2 Borussia Dortmund
Steaua Bucharest 0-1 Chelsea
Schalke 2-0 Basel
Atletico Madrid 3-0 Porto
Austria Vienna 4-1 Zenit St Petersburg
Barcelona 6-1 Celtic
Milan 0-0 Ajax
Galatasaray 1-0 Juventus (FT)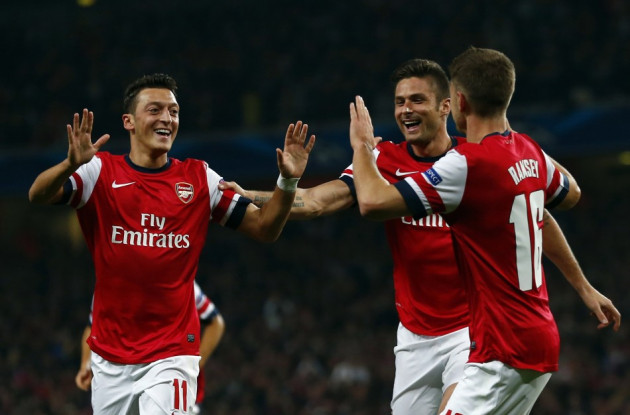 21:56: That's all from us this evening, thanks for reading and join us again at the weekend for live coverage of the Premier League.
21:52: All four Premier League sides have qualified but it's just United and Chelsea who have gone through as group winners. During next Monday's draw David Moyes' side will draw one of Galatasaray, Olympiakos, Schalke, Zenit St Petersburg or Milan, while Chelsea can look forward to ties with Bayer Leverkusen, Galatsaray, Olympiakos, Zenit St Petersburg or Milan.
Things aren't as rosy for City and Arsenal. They may have qualified for the first time, but Manuel Pellegrini's side face the prospect of Real Madrid, PSG, Dortmund, Atletico Madrid or Barcelona. While Arsenal, who were two minutes from going through as group winners will face Real Madrid, PSG, Bayern Munich, Ateltico Madrid or Barcelona.
21:48: After all the different possible outcomes at the start of the night, we now know who has made it to the last 16 and it finally boils down to this:
Group Winners: Manchester UnitedReal Madrid, Paris St-Germain, Bayern Munich, Chelsea, Borussia Dortmund, Atletico Madrid, Barcelona
Runners Up: Bayer Leverkusen, Galatasaray, Olympiakos, Manchester City, Schalke, Arsenal, Zenit St Petersburg, Milan
21:45: Chelsea's win in Bucharest ensures their passage as group winners, joined by Schalke whose win over Basel saw them nick the Swiss side's spot. Elsewhere, Barcelona have mauled Celtic to top their group and are joined by Milan after their goalless draw with Ajax. Despite losing 4-1 to Austria Vienna, Zenit St Petersburg qualify as runners up behind Atletico.
21:43: Arsenal, Napoli and Dortmund all finished on 12 points, but it is last season's runners up who qualify as group winners by virtue of goals scored, joined by Arsenal who are now vulnerable to drawing one of Europe's elite next year while poor old Napoli are out into the Europa League. One more goal from the Italians would have seen them qualify at the Gunners' expense.
21:42: Full time scores:
Napoli 2-0 Arsenal
Marseille 1-2 Borussia Dortmund
Steaua Bucharest 0-1 Chelsea
Schalke 2-0 Basel
Atletico Madrid 3-0 Porto
Austria Vienna 4-1 Zenit St Petersburg
Barcelona 6-1 Celtic
21:38: And that's it, but what a finish! After stroking the ball around without a care in the world, suddenly a 1-0 win wasn't enough for Napoli thanks to Grosskreutz's goal. With that in mid, Insigne flicks the ball into the box with Callejon beating tired Arsenal defenders to the ball before dinking it over the Arsenal goalkeeper. The ball is rushed back to the centre, but the whistle immediately follows. Napoli are out!
FULL TIME: Marseille 1-2 Borussia Dortmund
FULL TIME: Napoli 2-0 Arsenal
GOAL! Napoli 2-0 Arsenal (Callejon)
21:33: It's happened! Dortmund take the lead and now they are set to go through, and top the group! Meanwhile the comback is on at the Nou Camp as Samaras powers a header past Pinto.
GOAL! Barcelona 6-1 Celtic (Samaras, 89)
GOAL! Marseille 1-2 Borussia Dortmund (Groskreutz, 88)
21:30: Just about five minutes of time remaining. This must be excruciating for Napoli, as it stands they are through but another Dortmund goal will condemn them to a Europa League run in 2014. They don't seem to be concerned with adding another at the moment though, as they stroke the ball around in front of the visitors.
21:27: Amero goes on a brilliant marauding run down the left and whips an inviting ball into the box. It trickles across the face of goal without a Napoli player close enough to take a stab at it and at Arsenal breathe a sigh of relief.
21:24: With Dortmund still being held by ten man Marseille, this actually works out quite well for both Arsenal and Napoli. The intensity of the game has dropped slightly after that mad five minutes, but the home side are unlikely to settle for a one goal advantage.
21:21: Arsenal are down to ten men! The Spaniard is shown a second yellow after coming through the back of Callejon. Arteta was perhaps lucky not to be shown a second yellow earlier and it's the right decision this time from the ref. Remember, the only way Arsenal fail to qualify is if Napoli open up a three goal advantage. At the moment, the Gunners still go through as group leaders.
Red card - Mikel Arteta (Arsenal)
GOAL! Barcelona 6-0 Celtic (Cristian Tello, 72)
21:18: Napoli lead! Fantastic work from Callejon to find Higuain who has his back to goal. The Argentine turns quickly and fires a perfectly placed shot to the right of Szczesny. Cracking finish, and as it stands, Napoli will be joining Arsenal in the final 16! In Barcelona, Cristian Tello is in on the act to make it six.
GOAL! Napoli 1-0 Arsneal (Gonzalo Higuain , 71)
21:15: Napoli swing in a free kick that is rather tamely punched away by Szczesny, but after his clearance is hooked back in he is out bravely to smother the ball with Napoli forwards sniffing around.
21:13: Another great chance for Napoli! Callejon is played in by Insigne and the former Real Madrid man does well to hold the ball up and knock it around the corner for Higuain who has burst ahead of him on the right. It's a difficult chance and the Argentina blazes it wide and high of the goal.
21:11: Arsenal counter and Giroud is put through on goal against some tidy one touch passing between Arteta and Ozil. The Frenchman is offside though, and is booked for failing to knock the ball back straight away. Arteta booked moments for that, Ramsey on for Cazorla.
21:10: Napoli really pressing now as they are roared on by the home crowd. Callejon breaks clear of Koscielny down the right hand flank but his effort across goal was never really troubling the Arsenal goalkeeper.
21:06: A flurry of goals elsewhere as Neymar seals his hat-trick against a hapless Celtic after dancing past the Bhoys defenders, Schalke double their lead and now Austria Vienna are now really on their way to a maiden Champions League win.
21:04: Napoli really don't want to go through here, do they? What a chance that was to take the lead. Insigne finds Amero brilliantly down the left and the full back bursts into the box. He thinks, about shooting, then thinks about crossing the ball over to Higuain but in the end weakly dinks the ball into Szczensy's gratetful arms. What a waste.
GOAL! Schalke 2-0 Basel (Matip, 57)
GOAL! Barcelona 5-0 Celtic (Neymar, 52)
Goal! Austria Vienna 3-1 Zenit St Petersburg (Hosner, 51)
21:01: Rafa has had enough, the largely wasteful Pandev is off, replaced by Lorenzo Insigne.
20:58: Napoli again work the ball nicely in front of the Arsenal defence before suddenly kicking it up a gear. Callejon swivels on the edge of the box and finds Berhami, but his first touch resembles a woeful attempt on goal it has gone so far away from him. Arsenal launch a long ball up for Giroud by Cabral rushes out of his goal to hoof it clear.
GOAL! Schalke 1-0 Basel (Julian Draxler, 50)
20:56: Ba has a great chance to extend Chelsea's lead after being put through by Willian, but the striker nestles his shot into the crowd rather than the back of the net. Meanwhile Austria Vienna are on course for their first ever Champions League win.
GOAL! Austria Vienna 2-1 Zenit St Petersburg (Jun, 49)
20:53: More of the same in the start of the second half from Napoli. Both Pandev and Mertens try to spring the Gunners' backline but their attempts are underthought and overhit. The Serie A side will need to think of something better, Arsenal are being worked hard, but are largely untroubled.
20:52: Oh dear, this could be a massacre at the Nou Camp. Straight after the restart Neymar plays a neat one two with Pedro before calmly adding his second.
GOAL! Barcelona 4-0 Celtic (Neymar, 47)
20:48: Are we are back underway the Stadio San Paolo.
20:39: Let's assess things as they stand at the minute. Chelsea will go through top of their group thanks to their lead and will be joined by Basel. After all the slightly confusing permutations, as thing stand at the minute in Arsenal's group nothing will change; the Gunners top the group with Dortmund runners up. Already-qualified Atletico will be joined by Zenit while Barcelona and Milan progress from Group H, although Ajax will fancy their chances of changing that with the Rossoneri down to ten men.
20:37: Half time scores from around Europe:
Napoli 0-0 Arsenal
Marseille 1-1 Borussia Dortmund
Steaua Bucharest 0-1 Chelsea
Schalke 0-0 Basel
Atletico Madrid 3-0 Porto
Austria Vienna 1-1 Zenit St Petersburg
Barcelona 3-0 Celtic
Milan 0-0 Ajax
20::35: Half time whistles going across Europe, but Barcelona found just enough time to pile more misery on Celtic, with Neymar getting his first Champions League goal. Meanwhile a wonderfully worked goal from Austria Vienna has levelled them up against Zenit.
20:34: Szczesny undoes all Arsenal's good work by attempting to dink the ball over the onrushing Higuain. The Argentine anticipates it though and stoops to head the ball. Luckily for the Arsenal man its hit so close and quickly at him he can't get any real direction on it and it bounces just wide of the post. Last action of the half.
GOAL! Barcelona 2-0 Celtic (Neymar)
20:31: A nightmare moment for Celtic's Efe Ambrose (imagine that?) as Neymar makes him look a right fool before the Brazilian squares it to Pedro to score. Dego Costa continues his prolific season with another goal.
GOAL! Barcelona 2-0 Celtic (Pedro, 39)
GOAL! Atletico Madrid 2-0 Porto (Diego Costa, 37)
29:29: Mertens and Dzemaili both pick up bookings in the space of five minutes.
20:27: Higuain finds Maggio just inside the right hand side of the box with an excellent hooked pass. Szczesny rushes out to narrow the angle as the Napoli man tries to lift it over him, but he manages to lift it well over the bar. Devilishly difficult shot to take on, but it really was a dismal attempt after being found so gracefully by Higuain.
20:25: Callejon cuts in dangerously and shoots, but hit loops just over the Arsenal goalkeeper's crossbar. The home side should have probably been awarded a corner out of that after the ball nipped off Jenkinson, but it wasn't to be.
20:22: Red cards being dished out across Europe with Marseille's Payet and Basel's Ivanov given their marching orders.
20:20: Must be said, Arsene Wenger will be fairly pleased with how this is unfolding. An over-eager Napoli haven't been able to string an incisive breakthrough together, with Koscielny and Mertesacker rather comfortably dealing with what is thrown their way.
20:17: Napoli looking increasingly dangerous down that right flank, with Goran Pandev in particular finding space. Arsenal are doing well to snuff out the danger however, with Mertesacker in particularly reading each attempt to deceive him impressively.
20:14: Meanwhile in Milan, Ricardo Montolivo is shown a straight red for a nasty stamp on Christian Poulsen.
20:11: Arsenal gather possession and nearly capitalise. Giroud finds space just inside the left of the box and manages to find space to fire a shot on goal from a tight angle. Cabral gets strong hands behind it but it falls to Flamini just inside the box. Luckily for the Napoli shot stopper, the Frenchman's effort is horrifically miss hit and rolls harmlessly out of play.
Red card - Ricardo Montolivo (Milan)
20:09: Potential dark horses Atletico take the lead, through Garcia who smashes a free kick he won into the roof of the net.
GOAL! Atletico Madrid 1-0 Porto (Raul Garcia, 16)
20:07: Napoli try something from the training ground after Rosicky slides in on Higuain on the edge of the box. Pandev dinks the ball over to Callejon but its overcooked, forcing the former Real Madrid man wide. Calm and collected, he then safely puts the ball into touch. Or miscontrolled it so badly it ran out of play. More likely the latter.
20:05: Lots of pressure from Napoli at the moment, even if Rafa Benitez is updating his players on the game in France (he wouldn't be, by the way) no one would be able to hear him. Callejon is released through a deft flick by Pandev but Koscielny is there to nick the ball away. Bewildering shouts for a penalty by some, but they are rightfully scoffed at.
20:03: Weidenfeller in the Dortmund goal has a bit of a shocker and misjudges a cross that bounces off the bar. Did it cross the line? No matter, Diawara smashes it home just to be sure.
GOAL! Marseille 1-1 Borussia Dortmund (Diawara, 14)
20:01: Oscar's corner kick ends up in the back of the bet through either Demba Ba, Daniel Georgievski, or both.
GOAL! Steaua Bucharest 0-1 Chelsea (Georgievski OG, 10)
19:58: Mertens sends a looping ball over to Pandev who bears down on goal, but Mertesacker scampers back to sufficently force him slightly wide of goal. The Napoli forward has a go anyway, but his effort is straight at Szczesny. Moments later the German is left a little exposed between to Napoli attackers, but picks his moment perfectly to slide in and intercept the attempted pass.
19:56: Barcelona have the lead they need to seal top spot, Gerard Pique tapping home after Fraser Forster made a good stop.
GOAL! Barcelona 1-0 Celtic (Gerard Pique, 7)
19:52: Marseille have continued their routine of contributing absolutely nothing to this year's Champions League campaign, allowing Lewandowski though on goal to dink the ball over Mandanda in goal and give Dortmund an early lead.
GOAL! Marseille 0-1 Borussia Dortmund (Robert Lewandowski, 4)
19:50: Two early offside decisions given for each side. One for Higuain, who strayed just ahead of his man, and another for Giroud, who stung the palms of Rafael in the Napoli goal with a shot after the referee blew his whistle.
19:47: And we are underway.
19:44: Very few Arsenal fans in the stadium at the minute with reports suggesting the official buses they were travelling on have not arrived at the stadium yet.
19:40: And we are just about five minutes away from kick off across Europe. Remember, Arsenal will qualify unless they lose by a three goal deficit and even a point will confirm their status as group winners. Worryingly, Napoli have scored seven goals in their last two games. Slightly less worryingly, they have managed just one win in their last five, conceding 12 in that time. Napoli must better Dortmund's result in Marseille.
19:32: Quick reminder of those line ups this evening.
Napoli: Rafael Cabral, Maggio, Fernandez, Albiol, Armero, Dzemaili, Behrami, Callejon, Pandev, Mertens, Higuain
Subs: Colombo, Bruno Uvini, Britos, Insigne, Cannavaro, Inler, Zapata.
Arsenal: Szczesny, Jenkinson, Mertesacker, Koscielny, Gibbs, Flamini, Arteta, Rosicky, Ozil, Cazorla, Giroud
Subs: Fabianski, Vermaelen, Wilshere, Walcott, Ramsey, Monreal, Bendtner.
Chelsea: Schwarzer, Ivanovic, Luiz, Terry, Cole, Oscar, Mikel, Lampard, Willian, Ba, Hazard
Subs: Cech, Ramires, Torres, Mata, Schurrle, De Bruyne, Cahill.
Steaua BucharestL Tatarusanu, Georgievski, Szukala, Gardos, Latovlevici, Chipciu, Iancu, Pintilii, Stanciu, Parvulescu, Kapetanos
Subs: Nita, Prepelita, Cristea, Tatu, Piovaccari, Neagu, Varela.
Barcelona: Pinto, Montoya, Mascherano, Pique, Adriano, Sergi Roberto, Busquets, Xavi, Alexis, Neymar, Pedro
Subs: Oier, Puyol, Iniesta, Song, Jordi Alba, Tello, Dongou.
Celtic: Forster, Lustig, Ambrose, van Dijk, Matthews, Brown, Biton, Ledley, Boerrigter, Pukki, Samaras
Subs: Zaluska, Stokes, Commons, Balde, Mulgrew, Atajic, Fisher.
19:25: Arsene Wenger has given Aaron Ramsey and Jack Wilshere a rest with the pair starting on the bench alongwith Theo Walcott with Mathieu Flamini and Tomas Rosicky. Pepe Reina misses the game through a thigh injury.
19:19: Fairly simple plan for both Chelsea and Arsenal tonight; win and they are comfortably joining the likes of Manchester United, Manchester City, Real Madrid and Bayern Munich as group winners in line for a last 16 clash with one of eight group runners up. A point will be enough for Arsenal to achieve that to, but Napoli and Borussia Dortmund - both three points behind the Gunners - are still in contention to both qualify ahead of the Gunners.
19:10: On a negative note, there is already reports of trouble in Milan where two Ajax fans have been stabbed ahead of tonight's game. Find our report in the incident here.
Line ups
Napoli: Rafael; Maggio, Fernandez, Albiol, Armero; Dzemaili, Behrami; Callejón, Pandev, Mertens; Higuain
Arsenal: Szczesny, Jenkinson, Mertesacker, Koscielny, Gibbs, Flamini, Arteta, Rosicky, Cazorla, Ozil, Giroud
Chelsea: Schwarzer; Ivanovic, D Luiz, Terry, Cole; Mikel, Lampard; Willian, Oscar, Hazard; Ba
Steaua to follow
19:08: Barcelona need at least a point against Celtic to top their group while Zenit St Petersburg will join group winners Atletico Madrid in the knock out stages should they fend off the challenge of Austria Vienna.
19:05: Meanwhile Chelsea have qualified, but with Basel just a point behind them, they could do with a win in Bucharest to comfortably seal top spot with Basel and Schalke right on their heels. A win for the Swiss side will see them top the group.
19:03: It's possible for Arsenal, Dortmund and Napoli all to be on 12 points in a couple of hours time. Worst case scenario for Arsenal this evening; should Dortmund secure a win at Marseille and the Gunners lose 3-0 to Napoli they will fail to qualifty by virtue of the head to head record such a scenario would produce. Other scenarios are: *deep breath*
Should Borussia Dortmund fail to beat Marseille this evening, Arsenal will qualify whatever happens in Naples.
If Borussia Dortmund beat Marseille, Arsenal simply need to avoid losing by three goals or more to progress to the knock out stages.
But in the most simple scenario, a draw or a win will see Arsenal top their group and avoid a troublesome last 16 tie against one of Europe's elite.
As to who tops the group, let's just play that one by ear.
19:01: We've already seen one game today. After Tuesday's clash between Galatasaray and Juventus were called off after half an hour due to torrential snow and hail, the tie recommended this afternoon in conditions that made last night's look fairly respectable. On a pitch battered by ice and blokes with pitchforks and oversized sweeping brushes, Wesley Sneijder scored an 84th minute winner in Istanbul that ensured the Turkish champions progressed with Real Madrid to the knock out stages, leaving Juventus with the consolation prize of a Europa League spot.
19:00: Good evening and welcome to IB Times UK's LIVE minute by minute coverage of all this evening's Champions League action. Our focus will be on the Stadio San Paolo in Naples were Arsenal can clinch top spot in their group with a point against Rafa Benitez's Napoli, but we will be keeping you updated with every game across this Europe over the course of the next three hours.