For LIVE coverage of Bayern Munich v Real Madrid, join us for all the action right here.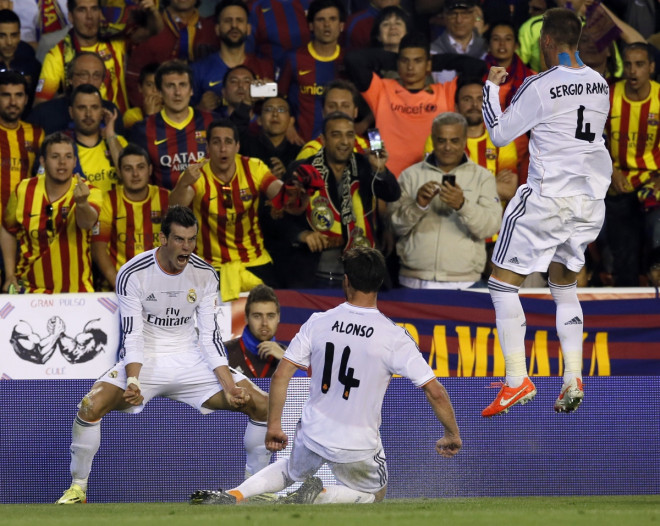 Real Madrid face their most important game in recent years against Bayern Munich at the Allianz Arena tonight. Despite his recent flu, Gareth Bale will be available for the match and his contribution may well prove decisive.
The Welshman - who missed the 4-0 league victory over Osasuna - is ready to play a key role alongside Cristiano Ronaldo, who has recovered from his injury.
Bale proved during his Tottenham days that he can handle the pressure, and demonstrated it once again during the Copa de Rey final against Barcelona. When his team needed him most, Bale scored one of those goals that define the career of a footballer with a strike of truly epic brilliance.
However, that was a minor test considering the importance of tonight's semi-final, where the Welshman will be asked to enter Bavarian nightmares and guide Los Blancos towards their La Decima dream.
At least this time he will not be alone, as he will be supported by superstar Ronaldo. The two mega-sigings haven't played together for nearly a month. The last time they featured in the same game, the first leg of the Champions League quarter-final against Borussia Dortmund, both scored and Madrid won 3-0.
The Ballon d'Or winner and the Cardiff Express have thus far notched 19 goals in the Champions League, and, if you add Karim Benzema, the overall total generated by Real's strikeforce has been 24 - no wonder many pundits are making Real favourites to progress tonight.
Bayern need to score, and this could play into Real's hands. The speed of their forwards makes them the world's most dangerous counter-attacking side, and the lack of pace in Bayern's defence means they push forward at their peril.
But, if the conditions are in Bale's favour, then the pressure of the match make it a daunting assignment. This is the sort of match when Galacticos are supposed to stand up and be counted, and Bale knows it.
Bale, who has scored four in his last three league games, has transformed himself into one of the world's most feared wingers, and tonight he must prove it with the eyes of the world upon him. And there is no margin of error.