Charlie Chaplin's Great Dictator speech goes viral in protest at Trump's Muslim ban
The anti-fascist speech was written by Chaplin for the film, released on the outbreak of WWII.
An impassioned speech by Charlie Chaplin against tyranny, oppression and persecution in The Great Dictator is being widely shared across social media following President Donald Trump's 'Muslim ban'.
The Republican's controversial "extreme vetting" order, which temporarily bars citizens and refugees from a number of majority-Muslim countries from entering the US, has caused outrage across the world.
The restrictions, announced without warning, caused havoc and and protests throughout airports across the country, even affecting Green Card holders.
Now the protest has spread online, with social media users noticing the poignancy of the speech made by Chaplin at the end of The Great Dictator.
A satirical condemnatory take on fascism and the rise of Adolf Hitler, the film was released in 1940 at the outbreak of war and represented Chaplin's first speaking part.
The English star plays a dual-role as a tyrannical dictator and the protagonist, a Jewish barber. The film ends with the persecuted barber being mistaken for the authoritarian leader, leaving him little choice but to speak to the people.
Seizing the moment, Chaplin's character makes an emotional plea against hatred and bigotry - reversing the authoritarian stance.
The speech specifically ties to Trump's Muslim ban through its opening lines: "I'm sorry, but I don't want to be an emperor. That's not my business. I don't want to rule or conquer anyone. I should like to help everyone – if possible – Jew, Gentile – black man – white. We all want to help one another. Human beings are like that. We want to live by each other's happiness – not by each other's misery."
"Greed has poisoned men's souls, has barricaded the world with hate, has goose-stepped us into misery and bloodshed," it continues.
"We have developed speed, but we have shut ourselves in. Machinery that gives abundance has left us in want. Our knowledge has made us cynical. Our cleverness, hard and unkind."
There are also references to how advancements in technology have been used to intensify division rather than unite, an analogy that could be applied to Trump's use of Twitter.
"The aeroplane and the radio have brought us closer together. The very nature of these inventions cries out for the goodness in men – cries out for universal brotherhood – for the unity of us all. Even now my voice is reaching millions throughout the world – millions of despairing men, women, and little children - victims of a system that makes men torture and imprison innocent people."
In another chilling parallel Chaplin highlights the importance of scientific discovery, at a time when Trump is disavowing climate change research in the face of insurmountable evidence.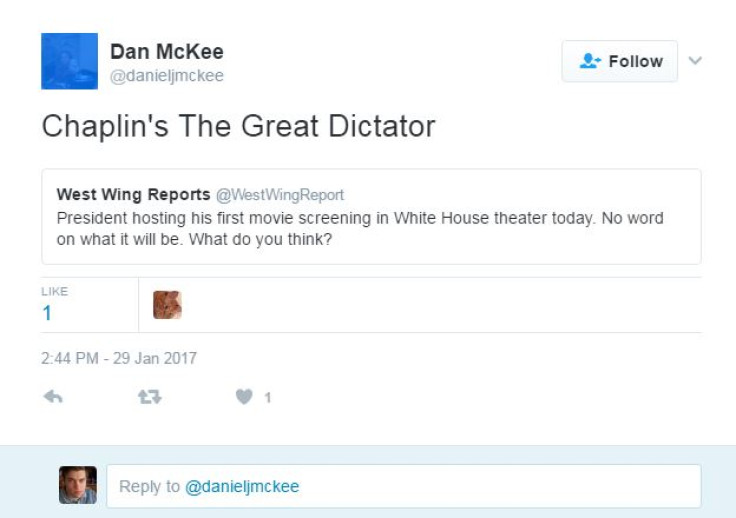 The speech concludes: "Dictators free themselves but they enslave the people! Now let us fight to fulfil that promise! Let us fight to free the world – to do away with national barriers – to do away with greed, with hate and intolerance. Let us fight for a world of reason, a world where science and progress will lead to all men's happiness. Soldiers! in the name of democracy, let us all unite!"
One Twitter user suggested the film should be shown at the White House, following reports that Trump plans to pick a film for his staff to watch in the White House theatre this weekend.
Other users took a more articulate approach, with Coventry University professor Darren Reid posting a note highlighting the film's relevance in the current climate.
The renewed focus on the film comes weeks after it was shown in full at Slapstick Comedy Festival following Trump's inauguration on Friday (20 January).
© Copyright IBTimes 2023. All rights reserved.