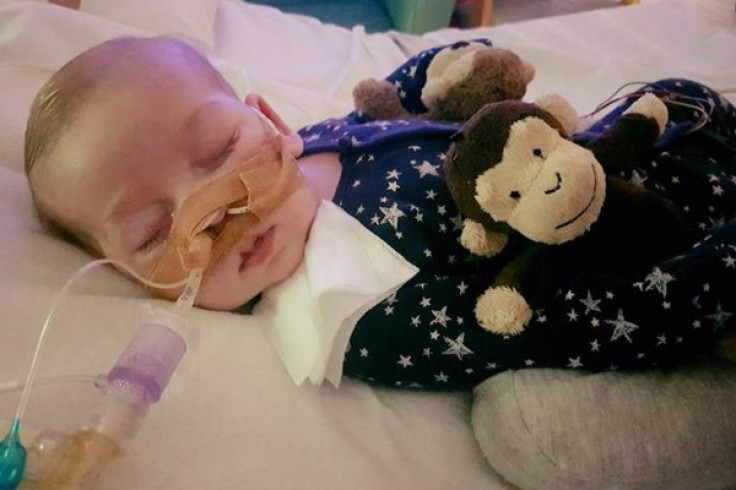 Donald Trump has made an unexpected intervention in the debate over terminally ill baby Charlie Gard, offering to "help" the boy.
The US President's statement comes after doctors won a court case to switch off the 10-month-old's life support machine.
President Trump tweeted on Monday (3 July): "If we can help little #CharlieGard, as per our friends in the U.K. and the Pope, we would be delighted to do so."
Pope Francis has also waded into the debate, calling for the parents to be allowed to "accompany and treat their child until the end".
Charlie, who suffers from a rare genetic condition and has brain damage, is being cared for at London's Great Ormond Street Hospital (GOSH).
Doctors treating Charlie say he cannot see, hear, move, cry or swallow.
He has been at the centre of a lengthy legal battle after his parents, Connie Yates and Chris Gard, wanted him to undergo a therapy trial in the US, and doctors at GOSH said the treatment was experimental and that Charlie had no chance of survival.
Yates and Gard were told their son's life support would be switched off on Friday after judges in the High Court, Court of Appeal and the Supreme Court ruled against the parents.
Judges at the European Court of Human Rights also concluded that further treatment would "continue to cause Charlie significant harm", in line with advice from specialists at GOSH.
The rulings come despite the couple raising £1.3m ($1.7m) in donations to fly Charlie to the US for the treatment for his mitochondrial depletion syndrome, a condition that causes progressive muscle weakness and brain damage.
The parents, both in their 30s and from Bedfont, London, posted a link to the US President's tweet on their campaign page, alongside the message: "If he's still fighting, we're still fighting!!! Xxx"
The couple last week released an emotional video announcing that they'd been told Charlie would die on Friday.
They said they had been denied their final wish to be able to take him home to die and felt "let down" after losing their legal fight.
Great Ormond Street Hospital, where the baby is being cared for, later confirmed it was "putting plans in place for his care".