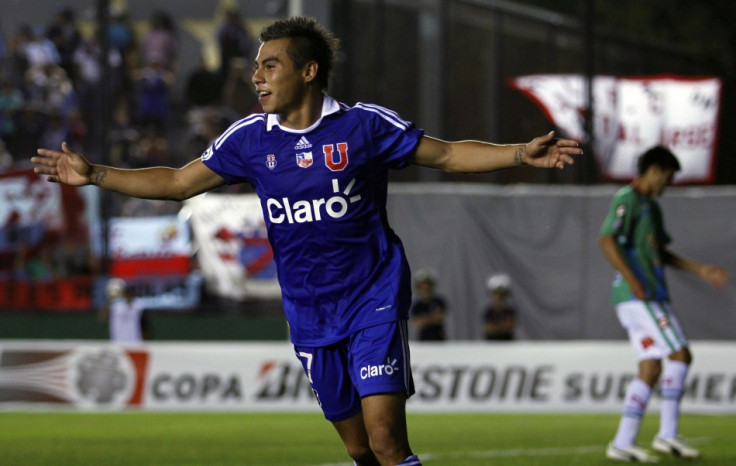 Eduardo Vargas is aware of reports connecting him with Chelsea, according to his agent, and while there have been no concrete offers yet, the winger has hinted that he would consider one from the London club if it came up in the future.
Vargas is still currently based in Chile, playing for South American side Universidad de Chile, but the 22 year old wants to move to Europe for the right offer.
And while Arsenal, Inter Milan and Napoli have all been linked to the forward, Chelsea are said to be front runners as they continue their quest to rebuild and create young stars full of potential at Stamford Bridge.
Agent Mark Griffiths believes that while Chelsea haven't yet made an offer for Vargas, the club may make a move when January rolls around, or if not then definitely in the future.
"He's definitely a player that is attracting a lot of interest," he told calciomercato.it.
"Has there been an official offer from Chelsea? Their chief scout in South America is Chilean, Jorge Alvial, so it is expected that the best players from his country will be linked with the Blues.
"However, we have not received an official offer from London. Maybe they will bid in the future, but to date there is nothing.
"That is the same for all the European teams."
Griffiths also insisted that reports claiming Vargas was worth €10 million were completely fabricated, saying: "I think it could be higher than that, maybe around €12-14million."
Chelsea were in the market for then Udinese star Alexis Sanchez last summer, though the Chile international decided to go to Barcelona in the end. But Griffiths believes that Vargas could be a better player than Sanchez, judging by his performances this season.
"Vargas as the next Sanchez? Comparisons have been made," he explained. "But I think in some ways he is even better than the Barcelona player because he scores more goals."
Chelsea have a range of targets on their wishlist for January, with Andre Villas-Boas admitting this month that the club would not be concerned with how much new players cost, so long as they can improve the squad.