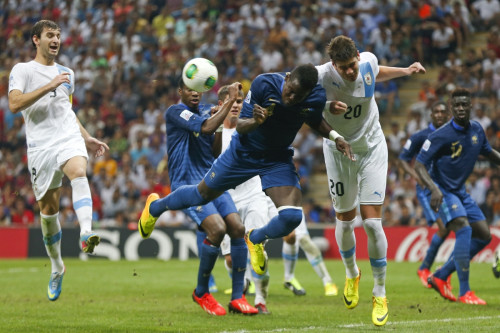 Chelsea have agreed terms with Saint Etienne defender Kurt Zouma and the player is expected to sign a five and half year contract before the end of the January transfer window, according to the Metro.
A deal for the defender is expected to be completed for a fee in the range of £10m as Jose Mourinho looks to bolster his side's defence. Chelsea currently have only three centre-backs in their disposal in the form of Gary Cahill, David Luiz and John Terry with Branislav Ivanovic also capable of playing as a centre-back if need be.
However, Terry is unlikely to be handed a new contract and Mourinho has earmarked Zouma as the man to succeed the England international.
Arsenal were also reported to be interested in his services but Arsene Wenger has not followed up on his interest giving the Blues a free route to the youngster's transfer.
Zouma has previously expressed his desire to join Chelsea and revealed that he had a personal talk with the manager where he was given assurances of his role at the club.
"There was advanced contact last month. At the start I thought it was a joke but afterwards I quickly took [Mourinho's] call seriously. When a great man like Jose Mourinho calls a little player like Kurt Zouma, it's nice. It doesn't happen every day and it's a big sign of respect and confidence," Zouma said.
"If you tell me to go to Chelsea, I'll go there immediately! Especially after the call from the coach. It's given me ideas. I'm playing my third season in Ligue 1. In June, it will be time to go and see how things happen elsewhere," he added.
The Frenchman revealed that he has no reservations about staying in France among the big guns, namely Monaco and Paris Saint-Germain who are currently leading the race for the Ligue One title.
"Why not a step up in France? For me, Saint-Etienne are already a big club. But after that, the top teams are Paris Saint-Germain and Monaco. It would be a good career plan. Abroad, it's make or break. But it's a risk worth taking. I won't necessarily choose according to the league. It will depend on playing time and the state of mind of the coach and the squad," he concluded.