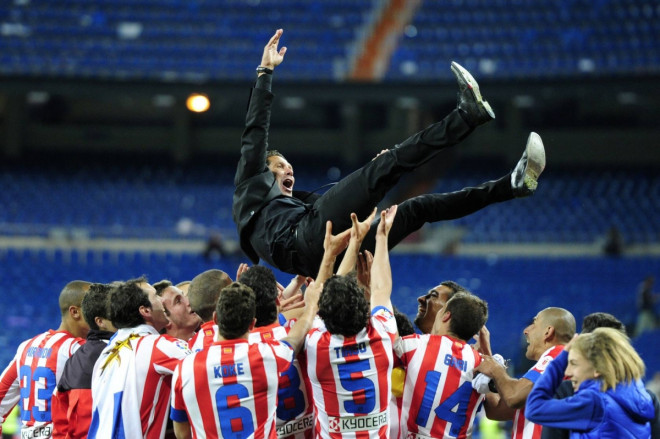 Everything Diego Pablo 'Cholo' Simeone touches turns to gold, it seems. The former Argentina midfielder was already an idol at the Vicente Calderon when he took over as coach in 2011, having starred for Atleti as a player - winning the league and cup double with them in the 1996/97 season. And in just a season and a half in charge of Atletico Madrid, he became a living legend.
El Cholo [the nickname refers to someone from South America] took a crumbling team and managed to rebuild the squad, leading them to the verge of becoming one of the most successful clubs in history – while spending a fraction of the sums splashed out by Barcelona and Real Madrid.
Simeone restored the glory days at Atletico, winning a string of major trophies: the Europa League, the European Super Cup, and the Copa del Rey (against Real Madrid at the Santiago Bernabeu) – a title that marked the end of 14 years without beating their eternal rivals.
Perhaps most crucially, Simeone hauled Atleti back into the Champions League – something they had not achieved since the 2009/10 season. The fighting spirit the Argentine has instilled in the dressing room has been rewarded and Cholo is already considered one of the best coaches in the club's history.
So far in this season's Champions League, Atleti's figures are spectacular: ten matches and no losses having scored 22 goals and conceded only five. The commitment and courage that they showed on Wednesday to stop Barcelona are typical of Atletico Madrid's season, as they have managed to defeat several of the biggest clubs in Europe.
Atleti have destroyed the oft-criticised duopoly of the giants from Madrid and Barcelona, an oustanding achievement considering the lack of resources at Los Rojiblancos' disposal. They are La Liga's current leaders, holding a one-point advantage over the Catalans and three over Real, with only six games left to finish the season.
From striker Diego Costa, through playmaker Koke, centre-backs Joao Miranda and Diego Godin to goalkeeper Thibaut Courtois, Simeone has brought the best out of several players who had achieved little before he turned up.
The Rojiblancos will find out in Friday's draw who they will face the semi-finals: Real Madrid, Chelsea or Bayern Munich. The Blues suffered humiliation at Atletico's hands in that European Super Cup final last season, as Radamel Falco scored a devastating hat-trick to propel his side to a 4-1 win. Simeone does not have Falcao at his disposal any more, but that is not proving a hindrance; the Colombian's replacement, Diego Costa, is proving just at lethal.
Whatever happens, Simeone has achieved something that seemed impossible before his arrival: the future of the coach is not discussed. El Cholo has managed to become Atletico Madrid's most important man, instilling all skills that characterised him as a player: commitment, humility, psychology and unyielding pride in the red and white.