Chelsea: Andre Schurrle says Jose Mourinho texted him to say he won the Premier League title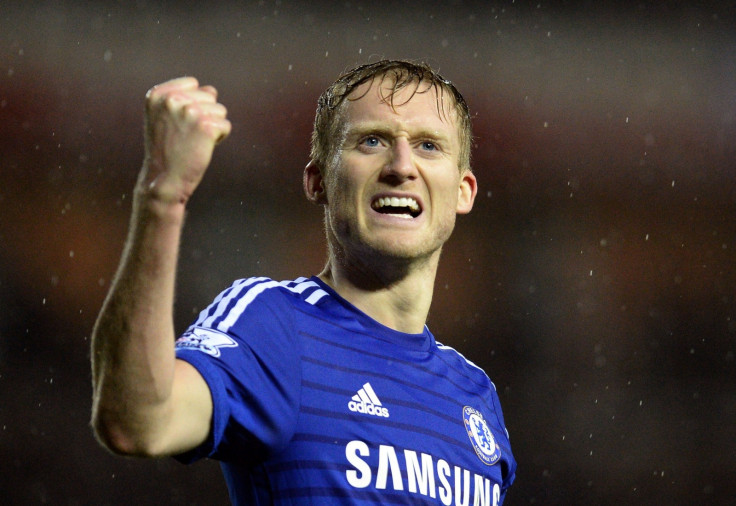 Andre Schurrle has revealed Chelsea manager Jose Mourinho sent him a text message inviting him to the last game of the campaign to pick up a Premier League medal.
The Germany international left Stamford Bridge for Wolfsburg during the January transfer window in a deal reportedly worth £24m ($35m) after falling out of favour of the Portuguese boss, who signed Colombia international Juan Cuadrado from Fiorentina as his replacement.
But having scored three goals for the Blues during the first part of the campaign, despite playing most games as a substitute, Mourinho sent Schurrle a message saying he will get a winners medal.
"I didn't know that I'd get a medal when I didn't play most of the second half of the season. Jose Mourinho sent me a text to say that I'd get a medal and he asked me to come to the last game. That was very nice for me," Schurrle revealed during an interview to BBC.
"I'm really happy for the boys. They played a very good second half of the season so of course for me it's good to get a medal but the boys did the work."
Meanwhile, the 24-year-old winger explained his decision to leave the west London club, claiming the exhaustion following his participation in the Brazil World Cup did not allow him to perform at his best.
"I had the World Cup, which was very perfect for me, and the start of the season was good as well. Then there came a little bit of a period for me where my body didn't feel very good, I was not clear in my head and I didn't have as many good moments for Chelsea," he said.
"I wanted to come back to the Bundesliga, I wanted to feel a little bit more in the team and to get a bit more playing time. I love Chelsea still, I'm not frustrated, it was a great experience."
However, even though his spell at Chelsea was not as good as he expected, Schurrle claimed he did not regret his decision to join the Blues in the summer of 2013.
"It can be difficult to get first-team football because you have so many good players. I think I took my chances very well because normally every time I got playing time I did something good and I scored," he added.
"The manager doesn't need to change anything because the team is winning, then it's very difficult. You just have to be clear in your head and take the chances when they come. If you have the chance, you have got to go there."
© Copyright IBTimes 2023. All rights reserved.