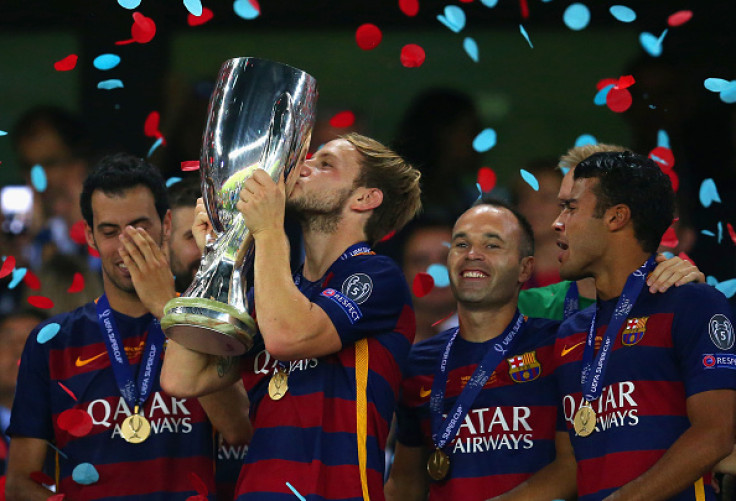 Barcelona star Ivan Rakitic revealed he snubbed a chance to join Chelsea when he was 16. The Blues were keen on bringing him to Stamford Bridge and develop him at the club's youth setup.
The 27-year-old came up through the ranks of FC Basel's academy, before breaking into the first team in 2005. After an impressive spell with the Swiss outfit, he joined Schalke in 2007, where he spent four years.
A move to Sevilla in 2011 saw him win the Europa League in the 2013/14 season, which saw him attract interest from Barcelona. Later that summer he completed a move to Camp Nou. In his debut season, he won the treble with Luis Enrique's side and also scored the opening goal in the Champions League final against Juventus.
The Premier League champions signed Jonas Elmer from Grasshopper in 2005. He has been tipped to be one of the brightest prospects in Swiss football. But lack of development at Stamford Bridge forced him to move elsewhere and he is currently playing for Biel-Bienne, Switzerland's second division.
"I wanted to stay at home. I had a really special relationship with the president of Basel. It was much better for me to do pre-season with the first team there and then work my way gradually to the top," Rakitic told FourFourTwo.
"There was another guy in my situation, Jonas Elmer, who moved from Zurich to Chelsea at the age of 17. He ended up playing in the second division in Switzerland."
"Maybe that could have been me. I don't want to say it's always better to stay where you are in that situation, but my decision was to stay at home with my family and it worked well for me."
Rakitic's rise over the years could see him adapt in the Premier League. The Swiss-born Croatian international claims a move to England in the future could be on the cards after his failed move to Chelsea over a decade ago.
"Of course, I like it very much. A lot of my friends are playing in the Premier League; it's a different style of football and I always enjoy playing in Europe against English teams. Maybe one day I can play there, too," the Barcelona midfielder explained.
"I like how every game is always intense and how everybody lives for football. You can have a game like Crystal Palace vs Stoke where both teams are strong, powerful, fully committed and the crowd are fully behind their team."