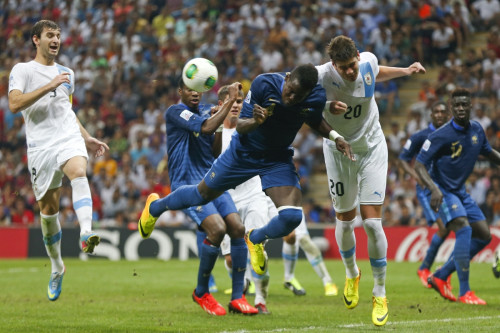 Saint-Etienne defender Kurt Zouma will not be allowed to leave the club for Chelsea or Manchester City in the January transfer window, according to vice president Dominique Rocheteau.
Zouma has been heavily linked with a move to the Premier League and recently claimed to have held talks with Blues boss Jose Mourinho over a switch to west London.
The 19 year old will however be free to leave the Ligue 1 side in the summer, with both Chelsea and City forced to wait to launch a genuine attempt to tempt the youngster to English shores.
"We talk about him now because he has talent," Rocheteau told beIN Sport.
"It's true, many clubs are watching, it was the case last season, many foreign clubs came to see [him]. But today, there's no [chance] he leaves in the winter transfer window. He will remain with us until the end of the season."
"Yes, we will not hide the fact that it came out in the press that Chelsea are actually interested in him," Rocheteau added.
"But we have not received any concrete offers. [Is he worth] €20m (£16.5m)? You be the judge of that. Now, that is today's market price."
With John Terry's future uncertain, Chelsea are naturally in the search of a new defender to lead Mourinho's second spell at Stamford Bridge.
And earlier this week, it had appeared Mourinho himself had made a personal approach to Zouma, after the France Under-21 international claimed he had held talks with the manager over a move.
"If you tell me to go to Chelsea, I'll go there immediately! Especially after the call from the coach [Mourinho]. It's given me ideas. There was advanced contact last month. At the start I thought it was a joke but afterwards I quickly took call seriously," Zouma told L'Equipe.
"When a great man like Jose Mourinho calls a little player like Kurt Zouma, it's nice. It doesn't happen every day and it's a big sign of respect and confidence. I'm playing my third season in Ligue 1. In June, it will be time to go and see how things happen elsewhere."