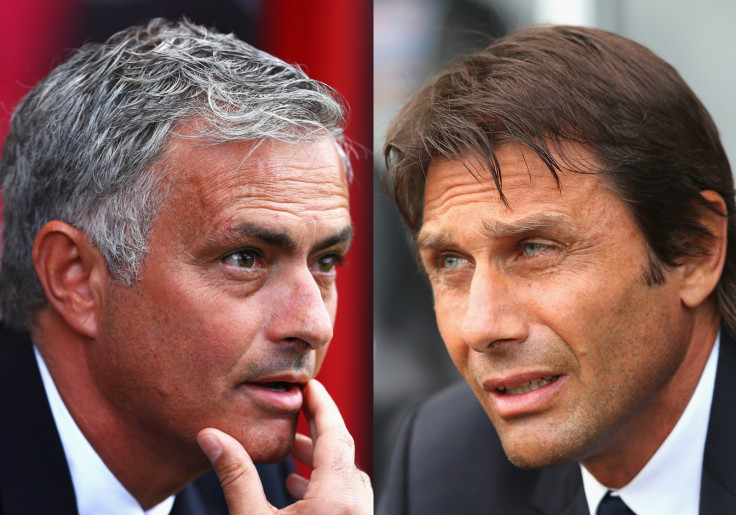 Chelsea manager Antonio Conte says he will not engage in mind games with Jose Mourinho after the Manchester United manager described the Blues as a "defensive team".
Speaking after United's 2-0 win over Watford at Old Trafford on 11 February, Mourinho said Chelsea will not be caught by any team in the Premier League title race as they are "a very good defensive team" who win with "counter-attack goals and set-piece goals".
When asked for his response to the remarks on 12 February, Conte admitted that he does not like Mourinho's "joking", but refused to be drawn into a protracted war of words with the Portuguese coach.
"I don't like to reply to the other coaches,'' the Chelsea manager was quoted as saying by ESPN.
"I don't like this joking. He's playing. I have the experience to understand this."
Chelsea extended their lead at the top of the Premier League table to 10 points, despite being held to a 1-1 draw by Burnley at Turf Moor.
Speaking after the match, Conte insisted that any of the top six teams could still win the title.
"If someone thinks this league is finished, for me I can tell you no," he said. "There are six teams for me that can win the league. Anything can happen. We must continue to work in this way, to try to find a way to win in the same way that we tried today.
"I am disappointed because our mentality is that we must always try to win, we tried to do this today but sometimes we must understand that there are tough games.
"This game was very tough. I'm disappointed for the point, not the commitment and the fight and will to try to win the game. I like to win and to always take the three points," Conte added.