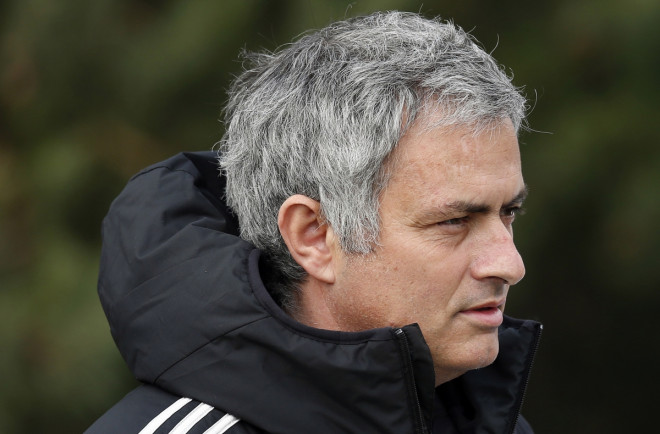 Chelsea manager Jose Mourinho is risking the wrath of The Football Association, claiming that football's governing body are victimising him after he was charged with improper conduct after Chelsea's 1-0 defeat to Aston Villa last weekend.
Mourinho faces a fine of £8,000-£12,000 and a possible touchline ban after confronting referee Chris Foy during the loss at Villa Park, in which both Willian and Ramires were dismissed, resulting in the Portuguese boss being sent to the stands in stoppage time.
After the game he appealed to The FA to prevent Foy from refereeing Chelsea matches for the foreseeable future and for the official to be stood down from Premier League action following his performance. Instead, he faces punishment for his own actions.
The 51-year-old claimed: "You see the charges from the last match and you see that I am different than anyone else; in the eyes of people I am different. That is obvious. It annoys me.
"In relation to English football nobody working outside this country defended the English game so much as I did during the five years I was in Italy and Madrid that (it) is the only thing I can say.
"Also because you know my profile as a person. I say what I feel. I was expecting to come back one day. Even after Saturday I keep saying English referees are very, very good, even after Saturday. Imagine the way I feel related to English football. There is a measure for me."
This weekend Mourinho renewed his rivalry with Arsenal manager Arsene Wenger, whose Gunners marked his 1,000th game as manager by losing 6-0 at Stamford Bridge. Mourinho's unbeaten run now stretches to 11 games over the Frenchman.
Mourinho has stopped short of following Sir Alex Ferguson's lead and paying tribute to Wenger's milestone but is keen to play down a rift between the pair having claimed the Arsenal boss is a "specialist in failure" earlier in the season.
"I have a good relationship with him," he maintained. "When I am playing at home I always feel I have to [shake the opposite manager's hand].
"I always go to the opponent's manager. Some times in the tunnel, sometimes we don't meet each other in the dressing rooms or on the bench.
"I keep saying there are many ways for me to pay tribute. My way is saying he is where everyone would like to be. I think that is the best treatment without a feeling of envy and that is not the point.
"I love my career and the experiences of my career but I think he is in a position that everyone would like to be. It is a big compliment."