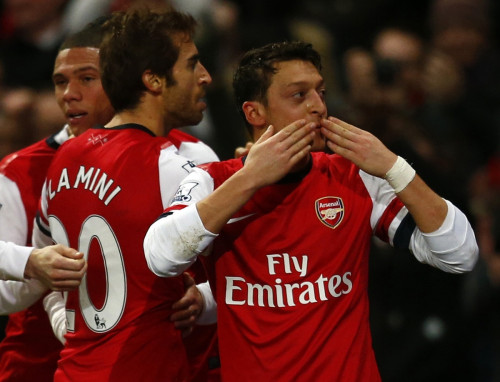 Chelsea manager Jose Mourinho says Mesut Ozil is Arsenal's player to watch in Monday night's summit meeting at the Emirates Stadium.
The German international has scored six goals and made nine assists since become the Gunners' record signing on deadline day of the summer transfer window.
Mourinho benefitted from Ozil's presence during his spell as boss at Real Madrid and therefore fully appreciates what the 25 year old could offer Arsenal against his Chelsea side.
"He arrived, Arsene gave him the shirt, immediately he starts playing and immediately the team becomes better," the Chelsea boss said.
"He's a phenomenal player. He's one of those players that you buy and you complete the puzzle of your team.
"I know his strong points," he added. "Not the weaknesses. I think I know how to try to stop him to be in the game (for) 90 minutes, with 90 minutes of direct influence.
"But it's impossible to stop him for 90 minutes, because these kind of players they will have always a moment or a couple of moments where you cannot stop them and they end up showing why they are so good. To stop him completely, I don't believe we can."
Arsenal can return to the top of the Premier League with a win over Chelsea who can go level on points with leaders Liverpool if Mourinho can produce a sixth career win over Wenger.
The Arsenal boss has never beaten Mourinho in nine attempts, the latest defeat coming in the League Cup earlier this season.
Ozil will be vital to the Frenchman breaking that duck against Chelsea but Wenger admits the Germany man is in need of a rest having played a significant portion of the season.
"In Germany, they have a break and we had this same situation with Jens Lehmann in his first season here," Wenger said. "We have to give Mesut a break - but not tomorrow night.
"He has played a lot. But we have had a little break since we played last Saturday at Manchester City and, hopefully, he has recovered."