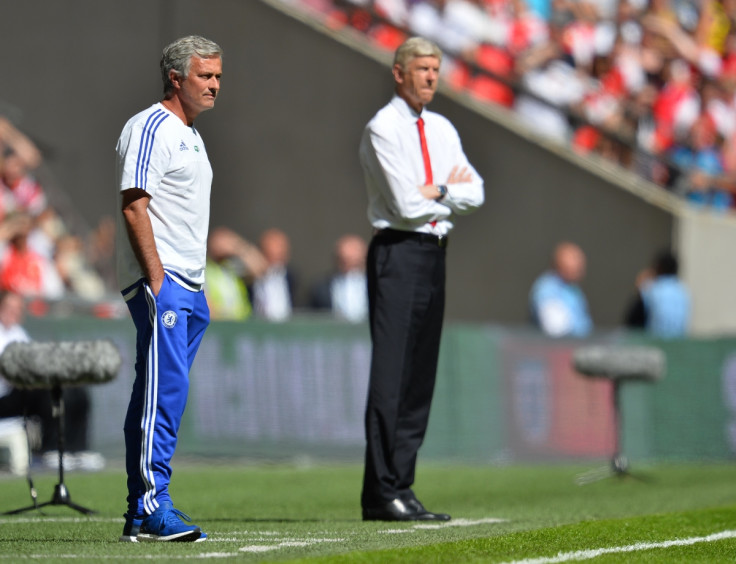 Chelsea boss Jose Mourinho has claimed he would like to sign every Arsenal player as he believes they have what it takes to lead the Gunners to the Premier League title. The Portuguese manager has taken a fresh dig at Arsene Wenger following their war of words after the Blues' controversial 2-0 victory over their north London rivals on Saturday 19 September.
Mourinho accused Wenger of making excuses and failing to cope with the defeat after the French boss questioned the referees's decision to send off both Gabriel Paulista and Santi Cazorla while Diego Costa stayed on the pitch despite committing certain actions that could have resulted in a red card. And the Portuguese boss has now reopened his feud with the Arsenal manager after saying his side should be the champions of the Premier League.
"I think Arsenal has the squad to be champions. And every season I feel that. So why aren't they? I don't know. But that's my feeling. I like every player," he said to the Mirror. "If you were manager of Arsenal? I am not. I am not. I just tell you that I like every player. I tell you if one of their players is a free agent and they don't want him there, I get every one. I like all of their players."
Wenger said Costa's behaviour was unacceptable and he is urging the FA to investigate the Spaniard for shoving the face of Laurent Koscielny just before Paulista was shown the red card.
But Mourinho said: "It's difficult to play against him [Costa]. It's difficult to play against Rooney. It's difficult to play against Benteke. It's difficult to play against Suarez. It's difficult to play against Higuain.
"It's difficult to play against people with this aggression. But it's because of these players that football is what football is and with so much passion around, because they create passion. The opponents have to keep emotional control, because to play against an attacking player that is aggressive, that goes to every ball, that fights for every ball, that is physical, it's difficult."