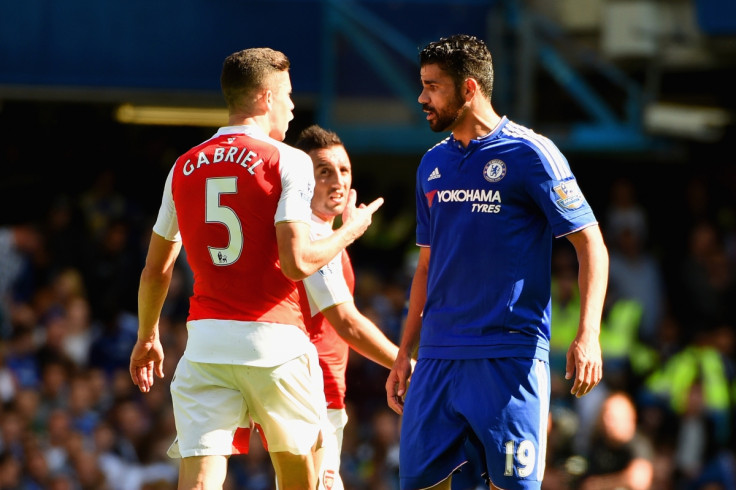 Former Arsenal defender Martin Keown would have loved to play against Diego Costa and give him a taste of his own medicine. The England international was known for his hard-handed tactics and is regarded to be among Arsenal's greatest players in the past generation.
Diego Costa had contrived to get Arsenal defender Gabriel sent off in Chelsea's 2-0 win over the Gunners at Stamford Bridge and was successful in his attempts as the Brazilian made a sly kick at the Spaniard which caught the eye of referee Mike Dean. The backlash came moments after Costa had manhandled Laurent Koscielny and could have been sent off for his transgressions.
Gabriel came in support of his teammate, but instead got embroiled in a battle with the striker who left scratch marks on his neck but somehow managed to stay on the field. Keown revealed that he was pleased that Gabriel intervened in the affair but insisted that the players need to be more intelligent when dealing with the Chelsea man as he is a "master of the dark arts".
Keown revealed that he had played against a lot of players who were physical but not a single one of them conspired to get the opposition player sent off as much as Costa. Gabriel will now be suspended for three games and will be unavailable for the Gunners' game against Manchester United on 4 August.
"I never played against someone who wanted to get an opponent sent off so much. Craig Bellamy was mouthy, Mick Harford smashed into you at every opportunity and Alan Shearer was a handful. But they never went running to the referee," Keown said, in his column with the Daily Mail.
"I'd try to overpower him and then give him a taste of his own medicine by reacting like he does. I'd look for the help of the referee: if you fall over, so will I. He'd have to know that he couldn't trust me either. I'd tread the line carefully — whatever happens, I'm staying on the pitch.
"That's how you beat him. Enjoy it, relish it.
"So how should football deal with him? There's no doubt he's annoying to watch. Referees should be aware of his tricks by now and need to crack down.
"My message for Costa himself is simple: you are an exceptionally good player with great strength, technical ability and pace. Embrace that and just play the game. Then you'll go down a true legend," he added.