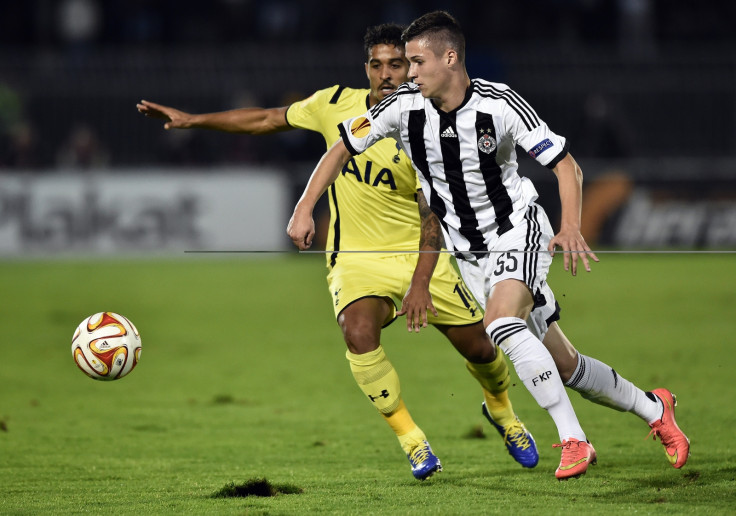 Chelsea youngster Danilo Pantic has pleaded with his parent club to end his loan spell at Vitesse Arhhem, suggesting the Dutch club are not playing him because he is Serbian.
Pantic, 19, signed for the Premier League side from Partizan Belgrade in the summer of 2015 but immediately left the club to sign on loan for Vitesse, one of five Blues youngsters to have joined the Eredivisie club this season.
The midfielder has made just six appearances this season, however, playing more games for the club's Under-21 side than for the first-team. Frustrated with the situation, Pantic now believes he made the wrong decision last summer.
"I want to come back to Chelsea, just to train. Why am I in Vitesse if I am not good enough?" Pantic told Blic. "I am crazy! I've made no mistake. If I had a chance and blew it, I would keep quiet.
"Maybe in Vitesse they don't like us Serbs: Nemanja Matic did not get a chance here either and Uros Djurdjevic played 22 matches in a year and a half."
Pantic is disappointed he and the four other Chelsea youngsters at Vitesse – Dominic Solanke, Lewis Baker, Izzy Brown and Nathan – are all struggling for first-team action and admits he has wondered whether he made a mistake in leaving boyhood club Partizan too soon.
The teenager admits however if he were to return to Stamford Bridge he would not walk straight into the first-team, something he feels Liverpool youngster Marko Grujic will also have to accept following his January move to Merseyside.
"There are five of us here at Vitesse from Chelsea and none of us are playing, that means something is wrong," he said. "For the first time I am saying: 'I shouldn't have left Partizan for Chelsea.' But not yet.
"It is a privilege to be a Chelsea player and I can't expect to instantly play with the likes of Willian and Eden Hazard... It will be hard too for Marko Grujic in Liverpool, with Philippe Coutinho in his position. We are still kids, you cannot expect to play in such a big club before you are 23 or 24."