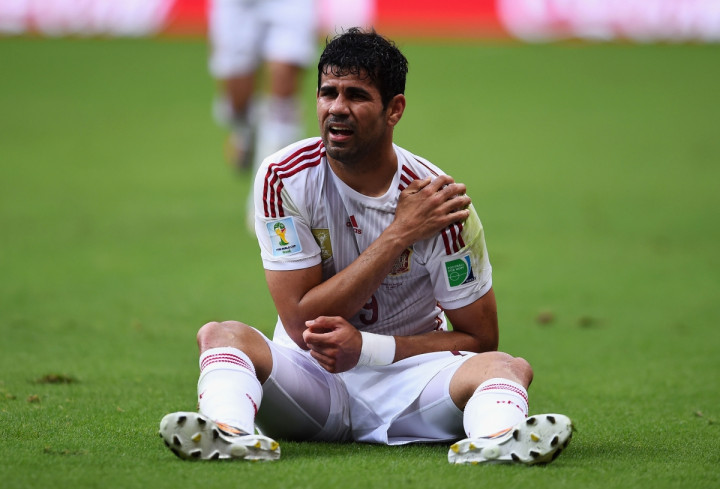 Spanish supporters believe Chelsea duo Diego Costa and Cesc Fabregas are not commited to the national team, according to a recent poll by prestigious Spanish sport newspaper AS.
Both Chelsea stars have been ruled out of Spain's games against Belarus on Saturday and the friendly against Germany three days later due to injuries.
Spain boss Vicente del Bosque decided to rest the striker and did left him out of his 23-man squad due to the injury concerns which has hindered him since the beginning of the latest campaign.
But after the striker played on Saturday and scored during Chelsea's 2-1 victory at Anfield, his injury has come under increasing skeptical scrutiny in Spain.
Fabregas, meanwhile, who also played against Liverpool, was withdrawn from the squad even though a medical scan by the Spanish team doctor "rejects any possibility of a hamstring injury".
Spanish national team captain Sergio Ramos recently questioned the commitment of the Chelsea duo to the national team, claiming he "would like to see the players have the same commitment with the national team as they do with their club".
When questioned whether Costa and Fabregas are committed to the National Team, more than 78% of AS readers voted no.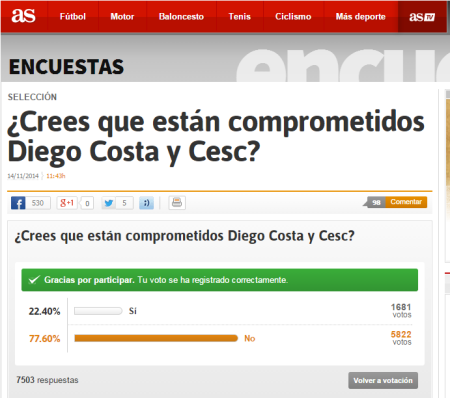 Ramos has since retracted his statement saying: "I underlined the commitment that there should be in the national team, not that the two of them don't have it. Far from it."
Meanwhile, Costa's former teammate at Atletico Madrid Juanfran has backed the Chelsea striker, claiming he has already proved his commitment to Spain when opting to play for Del Bosque's side despite being born in Brazil.
"It's not true when they say he's not committed. Every couple of days Diego and I are in touch and he's very proud to be part of the national team set-up. Not only for the decision had he made in choosing Spain, fully knowing how difficult the decision could prove for his family," Juanfran said.
"Imagine a Spain vs Brazil game and we win ... If Scolari had have called him up, he'd probably play instead of Fred. He's 100% committed to the Spanish national team. He wanted to play but is carrying a slight injury.
"I've rarely seen a player as determined as he is. Just remember the Champions League final. He needs to be given a vote of confidence. Diego's commitment was and is unquestionable for La Roja."