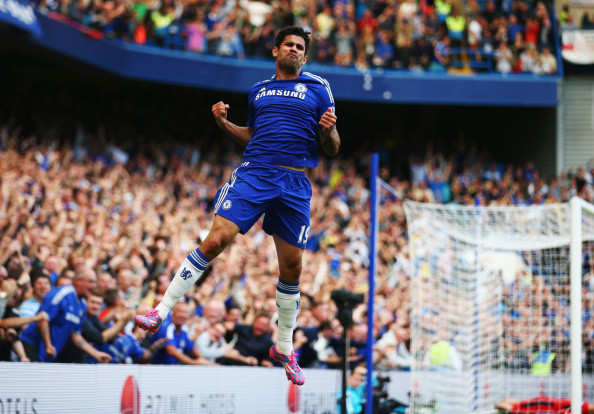 Chelsea have made an impressive start to the season. Two wins out of two, albeit against clubs recently promoted to the Premier League, would seem to justify their credentials as title favourites. Much of this confidence stems from the club's excellent business in the transfer window.
Chelsea, and in particular Jose Mourinho, knew exactly what they needed and acted early. They have plugged the obvious gaps in the squad, gaps which arguably cost them the title last season, with the acquisitions of Diego Costa, Cesc Fabregas and Felipe Luiz along with the recall of 'keeper Thibaut Courtois.
What is pleasing to Chelsea supporters is how quickly they have settled into the side. Fabregas put in a Man-of-the-Match performance against Burnley and could well be the key that unlocks the door to the big bus so frequently parked by opposition teams at Stamford Bridge.
Courtois has usurped a Chelsea legend in Petr Cech, and many supporters were a little unsettled to see the Czech giant relegated to the bench. However, Courtois has looked very impressive with his command of the box, quick distribution and game-turning saves against Leicester last weekend. Cech is rightly a hero at Stamford Bridge, but if the gloves really have been passed on, it appears that in Courtois we have a world-class keeper for the next ten years – hopefully.
Felipe Luis has yet to feature in the Premier League, and at first I thought that might be to settle him in gently. What now seems apparent is that it has galvanised Branislav Ivanovic, who has put in two superb performances so far this season. Brana was like a man on fire against Leicester – storming down the right flank, creating chances (one with a cheeky cross with the outside of his foot which I have named a 'Brabona' in his honour) and frequently having a crack at goal with head or foot. All this plus his typically bullish defending.
It appears that Mourinho's desire and proven strategy of having at least two high-quality players for each position is becoming a reality, apart from up front it seems.
Diego Costa was on Mourinho's wish list for a long while, and rightly so. The Brazilian-turned-Spaniard was mightily impressive last season, scoring 36 goals for Atletico Madrid and helping them win La Liga and reach the final of the Champions' League. On the evidence of his two goals in his first two games he appears to be the striker Chelsea have needed since Didier Drogba was in his pomp. Many would argue that the lack of a world-class striker was the difference between winning the title last year and coming third. Hopefully Costa's physicality, goalscoring and ability to keep possession will get Chelsea over the line this season.
But what if he gets injured or, just as likely, gets a few bans during the season? The news filtered through this morning that Costa has suffered a 'minor muscle injury' which may make him a doubt for the Everton game on Saturday, if not longer. The fact that he suffered a hamstring injury at the end of last season, and was rushed back for the Champions' League final and World Cup is also a concern – it may flair up again at the most inconvenient time.
And this could be the fatal flaw in Chelsea's transfer window business, and ultimately their aspirations for the title. Man City have four quality strikers, Chelsea have Costa (possibly injury and ban prone). Drogba cannot really be expected to carry the attack on his own and then there is Torres, the enigma wrapped around an enigma.
Torres has been conspicuous by his absence from the Chelsea squad thus far, and it is clear that Mourinho doesn't see him playing a part this season. Apparently AC Milan are in negotiations with Chelsea to take Torres either on loan or permanently, but of course the sticking point is the £175,000 per week salary he is currently on. The club are unwilling to make up any shortfall in AC Milan's offer, and Torres doesn't want to take a pay cut (a strong argument for 'performance related pay' perhaps?)
Chelsea supporters on the whole have been incredibly supportive of Torres whilst he has been at Chelsea, and he hasn't entirely been the disaster that many would have you believe. But for the sake of his career and fragile state of mind, and frankly more important, for the sake of Chelsea's assault on the Premier League title this season, he has to go. Chelsea need to get a deal done to get Torres out of the club, and - equally important - need to get a decent striker in to cover for and accompany Costa. Falcao, Destro and Remy have been rumoured to be in the mix – any one of them would do!
If a deal cannot be done to get Torres out and another striker in, then we will be in a worse position in the striking department than we were last season, and that will cost us the title. Surely lighting cannot strike twice?
David 'Stamford Chidge' Chidgey presents the award winning Chelsea FanCast TV show and podcast which can be seen every Monday at 19.00 on Chelsea FanCast TV or You Tube or heard at mixlr.com/chelsea-fancast/ or downloaded from ITunes. Follow us on twitter @StamfordChidge and @ChelseaFanCast