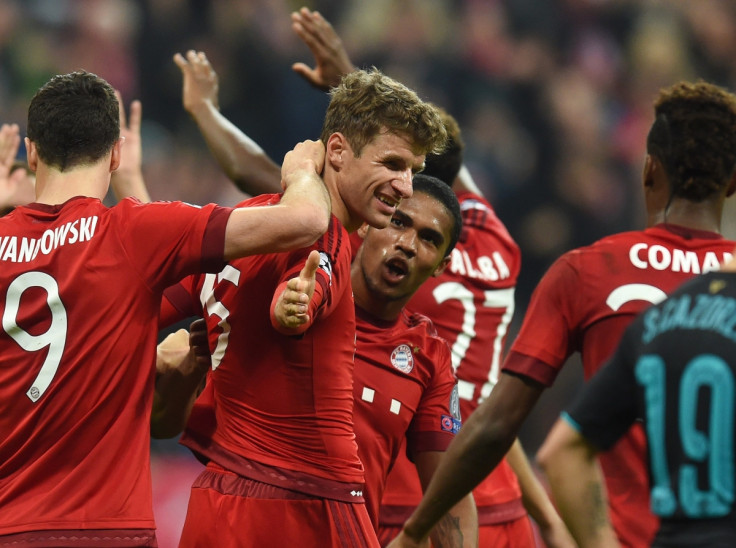 Chelsea have identified Thomas Muller as the player to replace Diego Costa in the Blues' starting eleven next summer, with Jose Mourinho having taken a decision on the Spaniard's future at the club. The former Atletico Madrid player has been in woeful form all season and is set to be replaced by one of a myriad of players under consideration.
The Mirror reports that Costa's career at Chelsea has run its course after he was left on the bench in a 0-0 draw with Tottenham Hotspur at White Hart Lane last weekend. However, Muller's signature will be challenged by clubs across Europe with Manchester United among the favourites to get the deal over the line with interest from manager Louis van Gaal.
Van Gaal is a huge admirer of the German, having worked with him during his time in the Bundesliga and had made a massive offer for the player last summer to secure his services. However, Bayern chairman Karl-Heinz Rummenigge has issued a hands-off warning to clubs over Muller, stating that the German is not going anywhere in the foreseeable future. Muller himself has come out repudiating rumours over his future, having previously said that he was enticed by the money being strewn around at players in the Premier League.
Chelsea are also keeping an eye on Jamie Vardy for a move next summer, with Claudio Ranieri having warned off clubs for making a bid for the England international this January. However, Mourinho is set to give Costa another chance to prove himself in their next game against Bournemouth, owing more to the fact that he does not have too many options to fall back on, with Loic Remy's wife having given birth and Radamel Falcao not considered a viable option anymore to lead the line at a Premier League club.
The Blues moved a place up in the table to 14th following their draw against Tottenham, but need to apply themselves better in the upcoming games, especially in a crucial fixture against Porto next week, where a loss will see them drop into the Europa League.