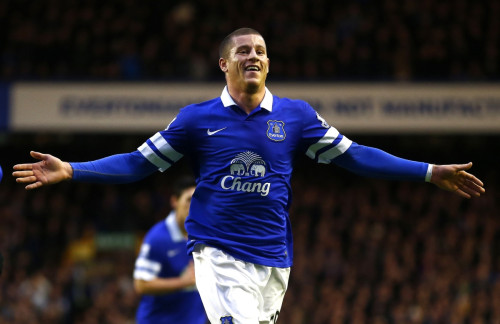 Chelsea will launch a bid to sign Everton and England midfielder Ross Barkley in order to offset the expected sale of Juan Mata to Manchester United, The Daily Telegraph reports.
Mata is expected to complete his £37m move to United before the weekend and though the Blues are not desperate for a replacement in January, the club are scouting potential replacements.
While both Inter Milan's Freddy Guarin and FC Basle winger Mohamed Salah are alternative short-term options, Chelsea are planning a high-profile summer bid for one of English football's most prized assets.
Barkley has enjoyed his breakthrough campaign for both club and country this season, forcing his way into Roy Hodgson's thinking for the World Cup finals after scoring three goals in 16 league appearances for Everton.
Out until mid-February with a broken toe, Chelsea will resist making a move for Barkley until the summer while hoping the 20 year old resists from signing a new contract.
Barkley's current deal expires in 2016 but any extension would rule out a departure this summer and ruin Chelsea's hopes of adding the exciting midfielder to their over-21 non-homegrown player list ahead of next season.
With United expected to be content in their search for a midfielder by the addition of Mata, Manchester City represent the only competition to Chelsea signing the player.
Despite being in contention for a Champions League place this season, Everton have regularly been forced to buckle under financial pressure and sell their best players, with Marouane Fellaini's move to Old Trafford the latest high-profile departure.
But Toffees boss Roberto Martinez said in December: "Ross is in a moment of his career where first, he knows that he needs to carry on developing and this is the perfect place to do that.
"Second, he is a mad Evertonian and enjoying every single second. And third, we are in the middle of a season where we would never, ever consider disrupting what we have got in our squad now.
"It is not the right time for the player or the club to consider anything. Even if we got a Gareth Bale-size valuation we would never even consider it in January."