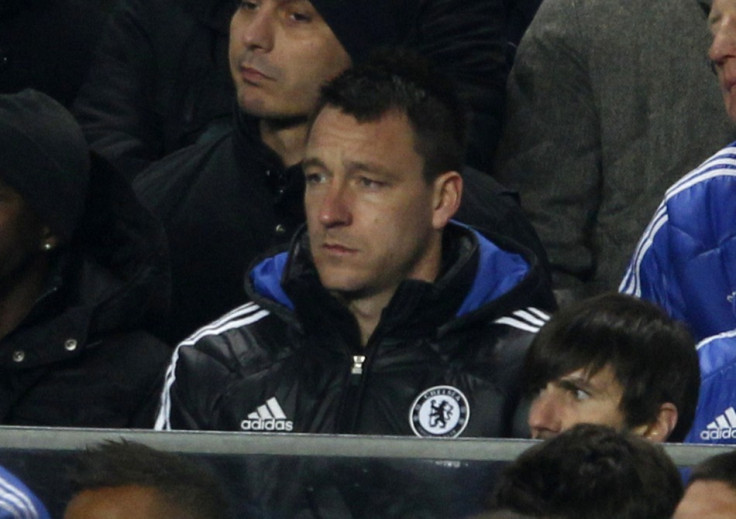 Chelsea captain John Terry has been sidelined by his boot sponsor Umbro amid allegations of racist abuse aimed towards QPR defender Anton Ferdinand.
Stripped of the England captaincy on Friday, the much maligned 31-year-old has suffered another setback in a hugely chastening week, after it emerged the aforementioned sportswear manufacturers, who pay the Chelsea stalwart an estimated £4 million to wear their boots, have frozen Terry out of the company's current advertising campaigns.
Umbro, who have been associated with Terry since he was 18-years-old, have a deal with the long-serving Chelsea star until the summer and although he will not appear in their existing promotional work, they will continue to sponsor the former England captain during his trial on charges of alleged racist abuse of the aforementioned QPR defender.
A spokesman for Umbro told The Times: "John is not involved in current Umbro campaigns and I can't comment on future campaigns and discuss which players are involved.
"John remains an Umbro-sponsored player while the case is pending.
"It is true that we are seeking new players to promote our brand but we are constantly looking for footballing talent."
Terry has been perennially used by Umbro to promote the England kit, and the 31-year-old fronted the campaign for the national side's away kit last August.
The Times suggests Terry's sponsorship commitments are likely to come under heavy scrutiny when the trial starts on July 9, and a guilty verdict would inevitably make it difficult for Umbro and indeed other endorsement deals, to continue their respective associations with the Chelsea captain.
Electronics giant Samsung, Chelsea's shirt sponsor, have already moved to distance themselves from the controversial defender by issuing a statement that suggested they were primarily associated with the Football Club rather than individuals at Stamford Bridge.
A statement from Chelsea's shirt sponsors, quoted by the Daily Telegraph, read: "Samsung Electronics and Chelsea Football Club renewed their global partnership in 2009, extending the relationship until the end of the 2012/13 season.
"Samsung Electronics enjoys this commercial partnership with the club only. It does not extend to any members of the playing staff at Chelsea FC."
Terry was stripped of the England captaincy on Friday but is understood not to be considering his international future, after Fabio Capello publicly backed the defender.
Capello met with FA chairman David Bernstein on Wednesday where the Italian was expected to explain his criticisms of the Football Association's decision to demote the under-fire Chelsea star.