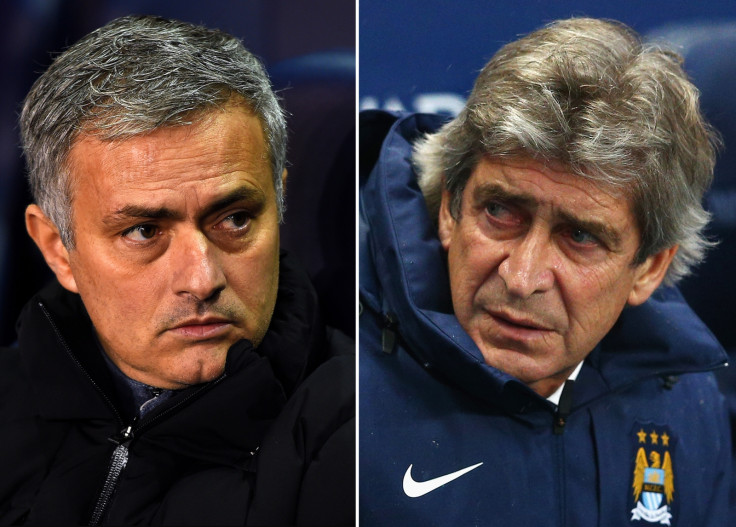 Chelsea manager Jose Mourinho has been accused of "taking credit for everything" by Manchester City boss Manuel Pellegrini.
Pellegrini, whose Manchester City side finished as runners up in the 2014-15 Premier League season, shares a tetchy relationship with his Chelsea counterpart.
And while he insists Mourinho is not his enemy, the former Villarreal, Malaga and Real Madrid manager has taken a swipe at his rival, telling Chilean newspaper El Mercurio, translated by the Guardian: "When he wins, Mourinho wants to take credit for everything. I never do that.
"When I won the Premier League I didn't say a word. I don't have any problem with Mourinho, he's not my enemy and there isn't any conflict – but I differ from him on all fronts. I have no interest in analysing him as a person."
The City boss accused the Blues of being a "small team" who adopt the same tactics of Stoke City during the 1-1 draw between the two clubs at the Etihad Stadium in September 2014.
Pellegrini's comments were fuelled by the frustration of seeing Pablo Zabaleta sent off before Chelsea took the lead through Andre Schurrle five minutes later.
"We played during 90 minutes against a small team trying to defend, trying to keep 10 players in front of their goal and [against] a team that wanted to win from the beginning," Pellegrini said in September 2014.
"It was very similar to the Stoke team, with a big team playing against a small team with very good players, trying to defend, trying to keep the score [nil-nil]. They had nine players in front of their box.
"I said last week that it will be very difficult for us to defend the title because every team will play the way Chelsea did. I repeat that I think they had no intention to win the game. They came just to draw and they scored on the counter attack against 10 players."
It was also Mourinho who replaced Pellegrini as manager of Real Madrid in 2011.